Main content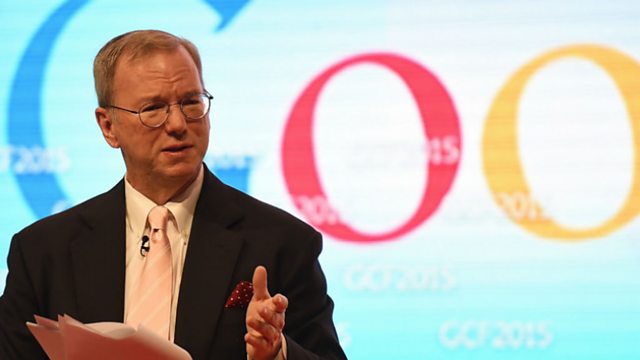 Eric Schmidt's Disappearing Internet
Google's Eric Schmidt's tech vision from Davos, UK's Digital Democracy Commission's report, India's controversial digital ID scheme, The Sun Stands Still
At the World Economic Forum in Davos, Google's Eric Schmidt made some predictions about how technology is changing all of our lives. He argued that many of the problems aired at Davos could be solved by more broadband. Education, human rights, health: "Wire up the citizens and they will take care of the rest." He also envisaged that in the future "the internet will disappear". Click deconstructs Eric Schmidt's vision of the future.
The Digital Democracy Commission in the UK has published 'Open Up!', a report investigating how digital technology can improve parliamentary democracy. Emma Mulqueeny, one of the commissioners and founder of Rewired State joins Click to discuss the highlights from the report.
Imagine trying to register and record every single individual in a population of 1.2 billion. Well, that is what India is trying to do, and is only months from completing. Click's Lorna Stewart reports from Bangalore on the controversy surrounding the Indian government's rolling out of its digital identity scheme.
The Sun Stands Still is a new art game developed by Naomi Alderman, an award-winning author and luminary in the world of games who co-created the immersive best-selling fitness game Zombies, Run! Comprising nine levels, The Sun Stands Still is a short narrative about the feeling of hopelessness, the descent and the start of return to light. Naomi Alderman joins Click to demonstrate the game and discuss the philosophy behind it.
(Photo: Google's Executive Chairman Eric Schmidt. Credit: Fayez Nureldine/AFP/Getty Images)
Last on
Chapters
Eric Schmidt's Tech Vision from Davos

Click deconstructs Eric Schmidt's assertion that in the future the internet will disappear

Duration: 03:35

Open Up! The Digital Democracy Commission

A report investigating how digital technology can improve parliamentary democracy.

Duration: 08:09

India's ID Project

Lorna Stewart reports from Bangalore on India's controversial digital identity scheme.

Duration: 08:38

The Sun Stands Still

Naomi Alderman discusses her new art game on the impact and importance of sunlight.

Duration: 06:12

Broadcasts