Main content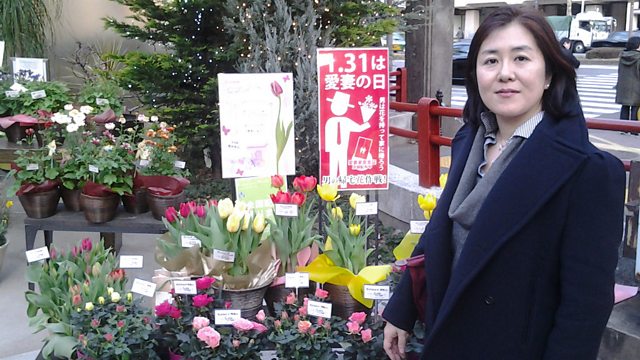 Love Your Wife Day
What does Love your Wife Day tell us about love and life in Japan today?
Even by the sometimes-bizarre standards of modern Japanese culture, the annual love-your-wife shout-out is one of the stranger rituals to have emerged in recent years. But what does it tell us about love and life in Japan today?
Each January dozens of men take to the stage in Tokyo's Hibiya Park to shout and scream - before complete strangers and on national TV - the sweet nothings that apparently they have difficulty whispering in private. Standing in front of a giant heart made of pink tulips the men take turns to declare their love. "I'm always putting you down," screams one man. "But it's only because I'm shy. I love you, and I promise not to come home drunk."
The organisers say they started this event a decade ago because culturally modest Japanese men can find it "difficult" to express love. In Japanese culture, modesty and reticence are traditionally valued over outspokenness and expressions of love and appreciation are uncommon, even among married couples.
Kiyotaka Yamana, the event's founder, is determined to teach Japanese men that true happiness can be found by declaring their love for their wives, one shout at a time.
Chie Kobayashi meets some of the men taking part - and their wives - and through their personal stories explores some of the bigger themes of love and life in contemporary Japan. But she also finds that, behind the light-heartedness of the event, some darker relationship truths come to light with serious implications for Japanese society.
(Photo: Presenter Chie Kobayashi at a shop selling flowers for Love Your Wife Day. Credit: Ruth Evans)