Main content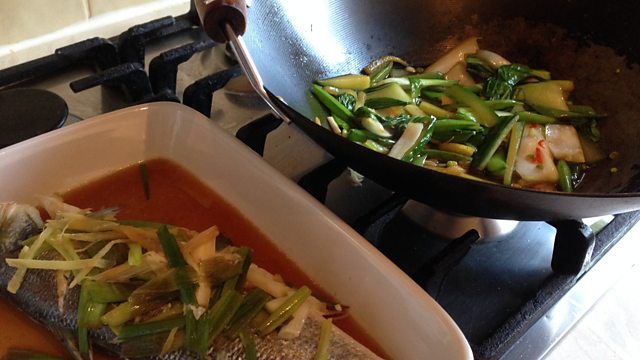 Food Friday 16/01/15
Food Friday with Janine Finch - Chinese Steamed Sea bass with Stir Fried Greens
Chinese Steamed Sea bass with Stir fried Greens
This is a Super Quick, Super Simple, Super Healthy Dish to make for maybe a Saturday Afternoon, A Romantic Meal or even for a great dish for Friends to show that with not much ingredients, it is still a Showstopper! where people can just dive in at the table and no need for Fussy Presentation. It may not Look spectacular...But will certainly Taste it!
Ingredients:
(For the Sea Bass)
- 1 whole Sea bass or Sea Bream
- 3 inch piece of Fresh Ginger Julienned (Sliced finely length ways)
- 5 spring Onions julienned (sliced Length ways)
(For the dressing)
- 2 Tbsp Light Soy Sauce (I used one specifically for Seafood)
- 2 Tbsp Dry Sherry ( I used Pedro Ximenex )
- Juice of 1 clementine or half an Orange
- 2 Tbsp of Water
(For the Sir Fry Veg)
- 2 tsp Coconut oil or another oil you have but Coconut will add extra flavour
- 5-6 Leaves of Pak Choi
- 3 inch piece of cucumber Sliced length ways
- approximately 10 sugar snap peas Sliced Length ways
- 2 cloves of Garlic sliced (Chopped Roughly)
- 1/2 Red chilli Diced finely
- 2 Tbsp Light Soy Sauce
- 1 Tbsp Oyster Sauce
- 2 Tbsp Water
- Pinch of caster Sugar
Method:
- Preheat your Oven on a warming setting, about 100c
- Take a Large Wok and fill with approximatley 1/4 Litre of water and place a grid of some kind so you can place a plate on top or if you have a bamboo steamer...Even better!
- Turn the heat up high so your water will start to boil but not too Rapid.
- Put in Half of your sliced Ginger and Spring onions into the cavity of the fish, score diagonal lines through the skin of the fish, about 4 but making sure you don't go too deep.
- Place the fish onto your Plate or Steamer and cover with a lid or in my case I used another Wok. Steam for about 10 minutes.
- After 10 minutes place the rest of your Spring Onions and ginger on top and half of your dressing over the fish. Continue to stem for a further 5 minutes.
- Once cooked and the flesh will just flake away, place into the oven on a large serving dish with the dressing, veg and juices to keep warm.
- In the meantime Stir fry your veg in the Coconut oil and as the veg starts to cook down after a couple of minutes add your sauces, water and sugar.
- Serve as it is on large dishes so people can dive in and you could also serve some Noodles and Boiled Rice if you wish.
Duration:
More clips from Ben Jackson