Main content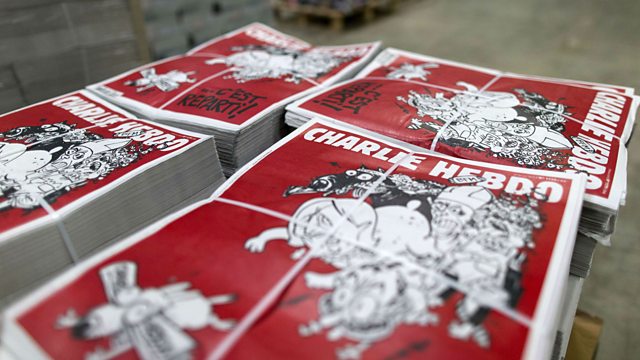 Blasphemy
What is the meaning of blasphemy in Islam and how does it compare to other religions? Owen Bennett Jones debates the changing meaning of blasphemy.
In the aftermath of the murders in Paris, western journalists have responded by defending the value they work with, freedom of speech. The killers of the cartoonists may have said that they were avenging their Prophet, but the consequence of their crime was to enable Charlie Hebdo to sell millions of copies of a magazine with a cartoon of the Prophet on it. When millions of Muslims say that it is blasphemous, why is that? What is blasphemy in Islam and how does that compare to other religions?
Owen Bennett Jones is joined by the Bishop of Bradford, professor Yvonne Sherwood from Kent University, Paul Marshall of the Hudson Institute, Australian columnist Waleed Aly and journalists Audrey Carville in Dublin, and Omar Waraich and Nick Cohen in London to debate the changing significance of blasphemy.
(Picture: Copies of the forthcoming edition of French satirical weekly newspaper Charlie Hebdo ready for distribution. This is the second edition since many of its staff were slain in an attack that killed 12 people on 7th January. Credit: Kenzo Tribouillard AFP/Getty Images.)
Last on

Broadcast