Main content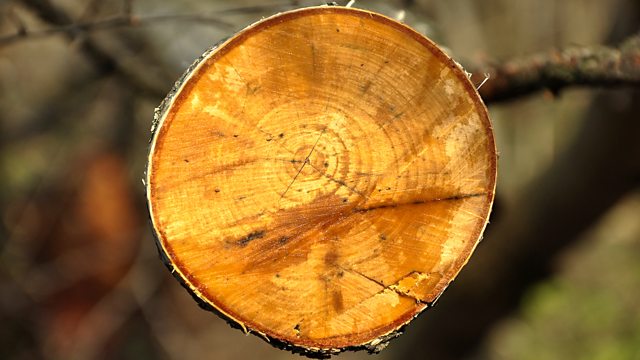 Wood
Are attitudes to wood changing and would you live in a high rise apartment made out of timber? With Michael Green, Dan Ridley-Ellis, Reginald Cline- Cole and Steven Isserlis.
Is our attitude to wood changing? In Africa it's a still the dominant fuel for daily survival and in Canada an architect is designing wooden high rise buildings. To discuss wood, architect Michael Green, timber researcher Dan Ridley-Ellis, geographer Reginald Cline-Cole and World famous cellist Steven Isserlis, who also plays some beautiful music.
(Photo: A cut tree log. Credit: Gleb Fedorov/BBC)
Chapters
Michael Green

The future of 'plyscrapers'

Duration: 11:32

Steven Isserlis

The types of wood needed for musical instruments

Duration: 07:49

Dan Ridley-Ellis

The versatile properties of wood

Duration: 01:54

Reginald Cline-Cole

Forestry and wood use in West Africa

Duration: 15:13

Michael Green

Michael Green is a Canadian architect and a Fellow of the Royal Architectural Institute of Canada.  With projects around the world and a team of 25 designers, Michael is particularly known for his research, leadership and advocacy in promoting the use of wood in the built environment. Watch Michael's 2013 TED talk to learn more.

Dan Ridley-Ellis

Dr. Dan Ridley-Ellis is a principal research fellow working on the collaborative Strategic Integrated Research into Timber (SIRT) project with partners at the The Institute for Sustainable Construction (Edinburgh Napier University), Forest Research and the University of Glasgow. His focus is  understanding the growth and utilisation of domestically grown timber in the United Kingdom and Ireland and how this may be affected by our changing environment.

Reginald Cline-Cole

Dr. Reginald Cline-Cole is human geographer with an interest in three related disciplines of Geography, Environmental Studies and, currently, Area Studies, based at the University of Birmingham in the UK. His ongoing research interest is forestry history and practice in West Africa.

Steven Isserlis

Steven Isserlis  is a British cellist acclaimed worldwide for his technique and musicianship and has had a distinguished career as a soloist, chamber musician and educator. The recipient of many honours, Steven  was awarded a CBE in 1998 in recognition of his services to music, and in 2000 he received the Schumann Prize of the City of Zwickau.