Main content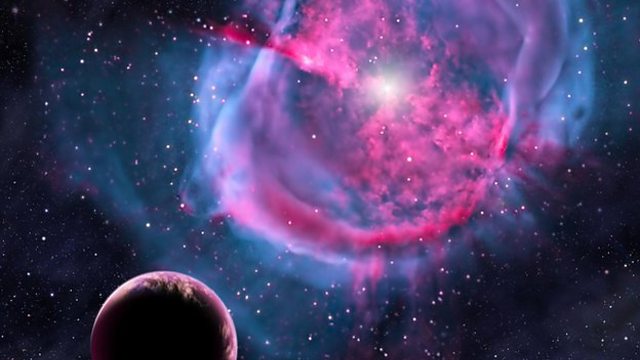 New Planets
The most recent Earth-like exoplanet spotted by Kepler. Plus, how to work out the age of stars, dementia and crime, the South-East Asian Tsunami and antibiotic resistance.
This week, the American Astronomical Society held its 225th meeting in Seattle in the US. Here, the latest research about our universe is shared among over 3000 astronomers, like the most recent Earth-like exoplanet spotted by Kepler and how to work out the age of stars. BBC Science Reporter Jonathan Webb brings us the news from the conference.
Dementia Crime
Antisocial or even criminal behaviour is an aspect of some forms of dementia which is often overlooked, but which can get patients into trouble with the law as well as causing real difficulties for their carers.
Sonotweezers
Roland Pease reports on a revolutionary method of controlling microscopic objects using sonics. As we move further into nanoscale technologies - electronic, mechanical and biological, and often a combination of all three - this could potentially offer a solution to manipulating structures, many of which are quite fragile at this scale.
Antibiotic Resistance
Antibiotic resistance is a major problem for healthcare. Now, a potential new class of antibiotics that can kill even drug-resistant infections have been found in micro-organisms living in common soil. The compound represents a new type of antibiotic and researchers say that it may be decades before resistance could emerge. Science in Action spoke to professor Kim Lewis from Northeastern University in Massachusetts who was involved in the discovery.
E-Therapy
E-Therapy has come a long way since the (slightly tongue in cheek) days of Eliza, a very early attempt at computer based psychotherapy. Eliza was little more than an algorithm that spotted patterns in words and returned empty, yet meaningful-sounding questions back at the user. All sorts of e-therapies are now available to help low-moderate level mental health issues.But could Virtual Reality technology bring the next great leap in our understanding of mental processes, and, in turn, be the basis of future psychotherapies? Quentin Cooper meets some of the researchers trying to find out.
Tsunami
Ten years on from the shock of the South-East Asian Tsunami that was to cost the lives of over 220,000 people, Adam Rutherford speaks to Dave Tappin of the British Geological Survey, one of the first marine geologists who went to assess the cause of this seismic event. What have we learned in the intervening years?
Presented by Roland Pease with comments from BBC Science Reporter Helen Briggs
Producer: Deborah Cohen
(Photo: Artist's impression of an exoplanet. Credit: David Aguiar)
Chapters
New planets

Earth-like exoplanets and spinning stars

Duration: 10:57

Dementia crime

Neurodegenerative disease patients who commit crimes

Duration: 06:06

Sonotweezers

A revolutionary method of controlling microscopic objects using sonics.

Duration: 05:54

New antibiotic

A new antibiotic that can kill drug-resistant infections has been found

Duration: 08:31

Virtual therapy

Many e-therapies are now available to help low-moderate level mental health issues.

Duration: 10:11

Tsunami

10 years on. What have we learned in the intervening years?

Duration: 07:46