Main content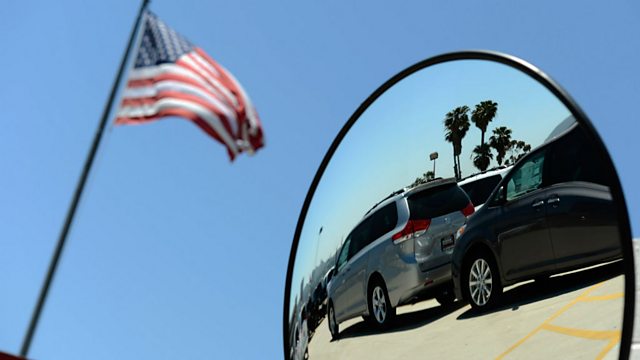 On the Move
A new California law gives immigrants who do not have visas the right to drive.
Immigrants without visas in California now have the right to do something that they could not do before the start of 2015 - they can apply for a driving licence. We hear what this new rule means for immigrant communities, and California more generally. Plus, a woman from New York gets the right to drive as well, after leaving her ultra-Orthodox Hasidic community. And, how a radio DJ in the Mexican border town of Ciudad Juarez helps weary migrants in a rather unexpected way.
Also, Boston Calling listeners give us their definitions of the word 'soul'. A sister and brother from Guam plan to open a vegan butcher shop in Minnesota. And a Canadian puppet troupe puts on a deathly funny show about mortality.
(Photo: Cars in a dealership in Los Angeles, California. Credit: Kevork Djansezian/Getty Images)
Chapters
Driving Licence

Unauthorised immigrants in California now have the right to get behind the wheel

Duration: 05:14

Hasidic Road Rules

A woman leaves her ultra-Orthodox community in New York, and learns to drive

Duration: 03:09

Migrant Foot Care

A gentle touch for weary migrants on the difficult journey through Mexico

Duration: 04:16

Facebook Chat

How Boston Calling listeners define the word 'soul'

Duration: 02:40

The Herbivorous Butcher

A sister and brother dream of making the perfect vegan meat

Duration: 05:00

Death at the Theatre

The Old Trout Puppet Workshop puts on a show that's definitely not for kids

Duration: 04:50

Podcast

How the world looks through American eyes, and the myriad and unexpected ways that the world influences the United States.