Main content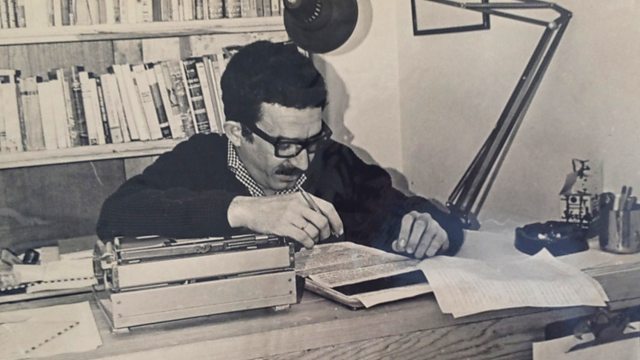 A Look Ahead
The personal archive of Colombian literary giant Gabriel García Márquez goes to Texas.
We hear about Gabriel García Márquez's personal archive, which has been acquired by the University of Texas. Plus, we learn about a new virtual reality tool that brings news stories to life, and a project that crowdsources local solutions in the fight against climate change.
Also, we consider the future of the American space programme, the US Navy prepares its Laser Weapon System for battle, and how the greenhouse expertise of the Dutch made one US grower an orchid powerhouse.
Photo: Gabriel García Márquez working on One Hundred Years of Solitude. (Credit: Guillermo Angulo/Harry Ransom Centre)
Chapters
Gabo's Archive

Gabriel García Márquez's original manuscripts and personal letters heads to Texas.

Duration: 05:12

Project Syria

Headline-making events experienced close-up in virtual reality

Duration: 04:36

Climate Hack

Crowdsourcing local solutions in the fight against climate change

Duration: 04:47

Mission to Mars

The American space programme sets its sights on the Red Planet

Duration: 03:39

Laser Weapons

Is that a US Navy ship or a Star Destroyer?

Duration: 02:53

Ohio Orchids

An American greenhouse becomes an orchid powerhouse by taking cues from the Dutch.

Duration: 04:21

Podcast

How the world looks through American eyes, and the myriad and unexpected ways that the world influences the United States.