Main content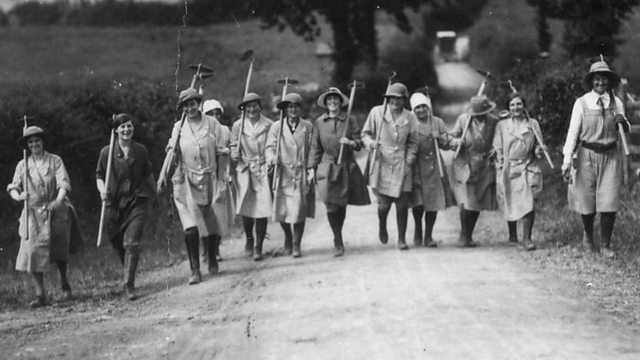 Great Bidlake Farm, Bridestowe: The Farm Run by Women
Women, farming and feeding the home front
From the autumn of 1917, Great Bidlake Farm near Bridestowe was farmed entirely by women.
It was the idea of Miss Calmady Hamlyn. She was an active part of the Women's War Service Committee for Devon, but was dismayed by the attitudes of local farmers to women working the land.
At the start of the war, after domestic service, agriculture was Devon's largest employer supporting 42,000 men and 5,000 women.
Although rural enlistment was low, by the summer of 1915, it was estimated that local farms had lost 15% of their male labour. They had also lost a significant proportion of the county's 43,000 horses.
Initially, schoolboys replaced the workforce (following a relaxation of the school attendance laws). But women were also encouraged to work on the land. Training courses were established at Seale Hayne Agricultural College near Newton Abbot and at Woodwater Farm near Exeter.
However, local newspapers report resistance to the employment of women. Some suggest this was about attitudes, or the lack of accommodation. Miss Calmady Hamlyn argued that it was about money and claimed that farmers in Totnes and Dartmouth were consistently offering lesser rates of pay to women than to men.
In 1916, it was reported that 2,254 women were available for farm work, but only 835 were employed on Devon's 13,204 farms.
Great Bidlake Farm was the only farm to be run entirely by women, but in 1918, 27 local farms were offering training to women.
Forty were employed on a government tree felling contract in Lydford Wood, and others worked to replant conifers in Stover, but by the summer of 1918, only 701 volunteer women were working in agriculture in Devon.
Location: Great Bidlake Farm, Bridestowe, Devon EX20 4NT
Image: Women farming at Great Bidlake Farm in Bridestowe, courtesy of Ray Bartlett.
Duration:
Featured in...
Places in Devon that tell a story of World War One

Everyday life in the towns, villages and countryside

How war transformed the status and role of women
More clips from World War One At Home