Main content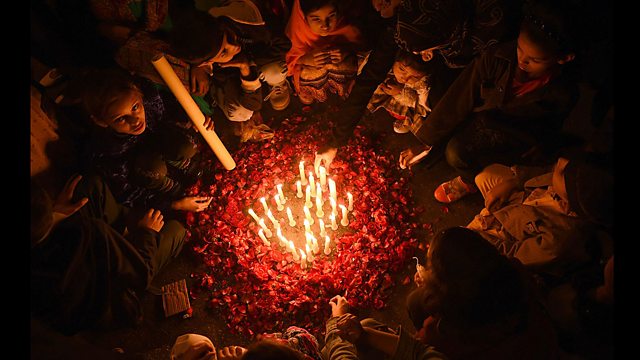 Stories from the Frontline: The Peshawar Attack
Witnessing the aftermath of the Peshawar attack; where football meets politics in Turkey; the story Cuba through one family; Iranian poetry on the year's longest night.
Peshawar School Attack
We're used to hearing bad news stories out of Pakistan but the attack on the school in Peshawar on Tuesday brought the country to a standstill. 141 people were killed, 132 of them children. It was an indiscriminate shooting spree by Taliban militants. Stories of exactly what happened in the school that morning have been slowly emerging in grim detail. Hearing those stories first hand for BBC Urdu was Amber Shamsi. She talks about her most difficult week at work. And from his home in Karachi Mohammed Hanif shares his thoughts on a day that shook the nation.
The Turkish Football Coup
In Turkey a trial has begun of 35 football fans accused of plotting to overthrow the Turkish government. It's not often that you hear of football fans planning coups against their government. Head of BBC Turkish Murat Nisancioglu explains the story of Carsi, the influential fans of one of Turkey's biggest football clubs, Besiktas.
Online Greatest Hits
Digital diva Fifi Haroon gives the lowdown on the weird and wonderful stories across the web, including a Dutch marriage proposal that nearly brought a house down, the wizard Gandalf runs for president and a nervous incident aboard a Chinese flight.
My Cuba
This week saw a historic thaw in relations between Cuba and the United States after over 50 years of hostility. Emilio San Pedro of BBC Monitoring provides a personal perspective on the story of Cuba through independence, revolution and exile.
Recite My Persia
The Iranian festival of Yaldā is an annual event held over the longest and darkest night of the year - 21 December. To celebrate, friends and family get together to eat, drink, and read poetry - especially that of the 14th Century Persian poet, Hāfez. To discuss both the feast and fortune-telling properties of Hāfez's work, Persian Service correspondents Rana Rahimpour and Pooneh Ghoddoosi join David Amanor.
Picture: Pakistani children light red candles for the victims of the Peshawar school attack
Picture Credit: Asif Hassan/AFP/Getty Images