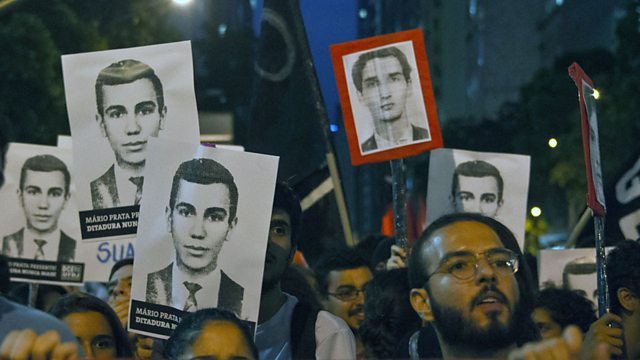 Reporting Truth and Reconciliation
Brazil's national truth commission published its final report this week on murder and torture during the military era. It said abuse was rife and called on the armed forces to recognise this. BBC Brasil's Jefferson Puff followed the hearings and heard some astonishing testimonies. He shares his insights with Milton Nkosi, a Sowetan-born BBC journalist who was at South Africa's truth and reconciliation commission in 1996. How far do these commissions go to address the problems of the past?
Jihadi Hymns
This week the BBC has been talking about the human cost of jihads - the impact of militant groups like al-Qaeda and its offshoots in 14 countries around the world. As part of this Murad Shishani of BBC Arabic has been looking at the music of the jihadists or anasheed, its origins and how its come to be used in recruitment and the mobilisation of people.
International Action Heroes
A new comic book with a female rape survivor as its "super hero" was created in India recently to help tackle violence against women. Super heroes have been threading their way into folk tales and story books for centuries - from the story of Argentina's time travelling El Eternauta to China's shape-shifting Monkey King. We look at the tales behind these adventurers and ask what they tell us about the countries they hail from.
Growing up in the Shadow of the Kalashnikov
The Kalashnikov, or AK-47, is probably the best-known weapon in the world, brandished by everyone from Che Guevara to Osama bin Laden. This month the rifle got a makeover in an attempt to boost sales - but there's quite a few Fifth Floor Language Service journalists who remember the old type. Many of them grew up in countries which experienced much conflict, lawlessness and a confluence of weapons, and they share their stories of fascination and fear of one of the world's most recognisable weapons.
Sri Lanka: Art and Exile
Priyath Liyanage, former head of the BBC's Sinhala Service, meets a new generation of Sri Lankan artists - many of whom have never been to their home country as a result of the devastating 30 year civil war - who are using their art to explore their own feelings about identity and belonging.
Online Greatest Hits
Digital diva Fifi Haroon gives the lowdown on the weird and wonderful stories across the web, including President Hollande's Kazakh costume, a Chinese Mona Lisa and cheerful Russian prisoners.
(Picture: Brazil Coup Anniversary Demo
Credit: Getty Images – Vanderlei Almeida)
Last on
Sat 13 Dec 2014
02:05

GMT