Main content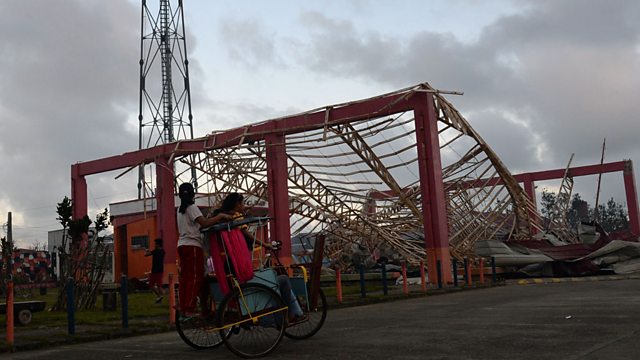 Typhoon Hagupit and OSM
Typhoon Hagupit and Open Street Maps, Logan Symposium, Seizure Wristband, Robot World
Open Street Maps have helped to limit the devastation of Typhoon Hagupit. The maps were compiled by local people and digital humanitarians, volunteers who help relief efforts around the world, using their laptops to track weather changes and interpret satellite images. The volunteers went into action over the weekend when the Philippines was hit by another severe storm. Harry Wood from the Humanitarian Open Street Map team joins Click to discuss how the mapping works.
Logan Symposium
The Logan Symposium in London recently brought together journalists, hackers and surveillance experts to better understand how the NSA and other spy agencies operate, and to be able to disseminate this information through newspapers and broadcast outlets. Click hears from the keynote speaker, Seymour Hersh, and producer Colin Grant talks to the journalist James Bamford who has written three books on the NSA.
Seizure Wristband
A new device has the potential to alert people with epilepsy to the possibility of a seizure. It is a digital wristband developed by researchers led by professor Rosalind Picard from MIT in Boston, USA. But how reliable is the wristband and will it work for all types of seizures? Click is joined by professor Picard and professor Ley Sander, the medical director of the Epilepsy Society in the UK.
Robot World
South Korea is one of the most connected countries on the planet and makers of flat screen TVs, smartphones, cars and robots. The government of South Korea is hoping to build on an existing hi-tech industry and be number one in developing advanced robotics - humanoid robots that do way more than mow the lawn or vacuum the house. Simon Morton reports from South Korea on a robotic competition called HuroCup, where robot designers put their creations to the test.
(Photo: Residents on a tricycle ride past a mangled covered-gym, which was destroyed at the height of Typhoon Hagupit © Ted Aljibe/AFP/Getty Images)
Last on
Chapters
Typhoon Hagupit and OSM

How open street maps have helped to limit the devastation of Typhoon Hagupit

Duration: 06:42

Logan Symposium

Colin Grant talks to James Bamford about journalism, hacking, whistle blowers and the NSA

Duration: 05:57

Seizure Wristband

A report on the wristband that aims to alert people with epilepsy to potential seizures

Duration: 05:58

Robot World

Simon Morton reports on the competition for humanoid robots in South Korea

Duration: 04:18

Broadcasts