Main content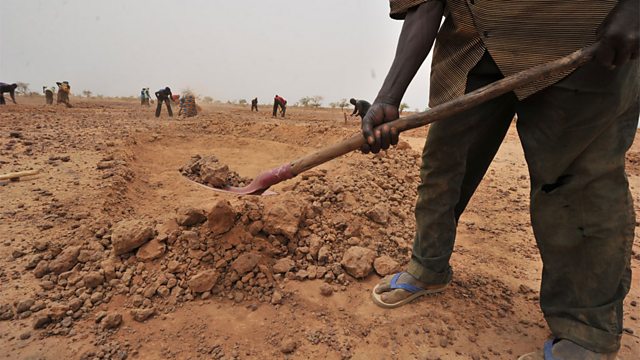 African Soil Report
African Soil; Climate Defence Plans; China's Wetlands; Mangrove Conservation
On 5 December 2015, it is World Soil Day and Science in Action takes a look at the condition of soils across sub-Saharan Africa. There, 65% of the soil is so degraded that it is unusable for growing and nourishing crops. That is the finding from a new report into the issue, from the Montpellier Panel, a group of African and European scientists. It says that poverty, climate change, population pressures and poor farming techniques are leading to a continuous decline in the health of African soils. Camilla Toulmin, director of the research organisation the International Institute for Environment and Development (IIED), and co-chair of the Montpellier Panel, warns that if things are not changed, poor land management will make it tougher to meet food security targets in the future.
Climate Defence Plans
Hundreds of United Nations-backed projects for the world's poorest countries to cope with the impacts of climate change have gathered dust for years and are at risk of never being completed, a BBC investigation has revealed. According to officials and experts in the affected countries, lack of funding is the main reason. Environment correspondent, Navin Singh Khadka, reports from Central Nepal where a failure to receive climate funds has been disastrous.
China's Wetlands
Much of China's economic growth is due to rapid expansion in coastal regions, which compose only 13% of China's total land area, yet contributes to 60% of the nation's gross domestic product. To create extra land for the rapidly expanding population, coastal wetlands have been enclosed by thousands of kilometres of seawalls, whose length exceeds that of the Great Wall of China. A recent article warns that these seawalls have caused dramatic declines in biodiversity and populations of birds that rely on China's wetlands during their migration and may cost the country a staggering $31 billion dollars annually due to losses in ecosystem services. Professor Theunis Piersma, one of the article's authors, from the University of Groningen, Netherlands, and Professor James Perry from the Virginia Institute of Marine Sciences in the US, discuss the cost China might have to pay in the face of their declining wetlands.
Mangrove Conservation
Mangrove trees inhabit nearly two-thirds of coastline in tropical areas across the globe. There are over 80 species of mangroves across the world and their forests are incredibly diverse and complex ecosystems. They provide habitats and breeding grounds for a huge range of terrestrial and marine animals, are extremely effective carbon sinks and offer coastal protection to communities vulnerable to extreme weather events. However, despite their ecological and strategic importance, mangrove forests are under threat across the world. Estelle Cheuk went to the Zoological Society of London to find out what is being done to protect them.
(Photo caption: Nigerian farmers digging a trench © Issouf Sanogo/AFP/GettyImages)
Last on

Chapters
African Soil

Unhealthy soil is prevalent across sub-Saharan Africa

Duration: 05:42

Climate Defence Plans

Climate defence plans at a stand-still in developing countries

Duration: 06:04

China's Wetlands

Wetlands are in decline across China

Duration: 07:18

Mangrove Conservation

Important mangrove forests in need of effective conservation

Duration: 06:12

Broadcasts