Main content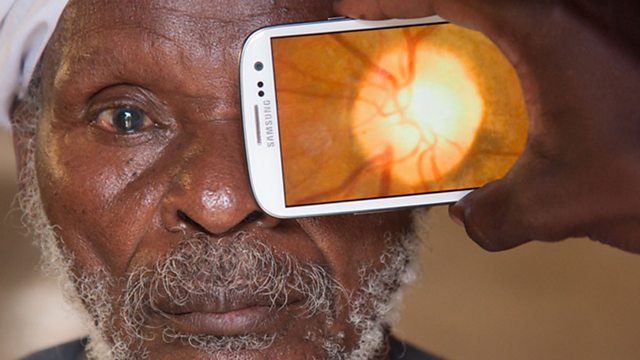 Peek Vision
How mobile phone data can be used to track people infected with Ebola. Plus, the clip enabling affordable eye tests via mobile phones and an interactive glove for the deaf-blind.
Phone Mapping Ebola
Mobile phone data might be used to track the movements of people infected with Ebola. Dr Andrew Tatem at the University of Southampton is working on a number of projects which use anonymised mobile phone data to measure population density in a country at any given time, and also population movements. With regards to Ebola, the data could help decide where best to place resources, such as infection testing, response centres, and treatment units. It would allow health workers to anticipate rather than retrospectively track already infected people. Dr Tatem discusses the project with Click.
Peek Vision
Peek Vision offers a new device that aims to enable cheap and affordable eye tests done with a special clip attached to a mobile phone. Diseases such as glaucoma can be detected with this enhanced mobile phone yielding results that are comparable to much more expensive high-end dedicated medical equipment. Trials have been going on in Kenya, and the Peek Vision kit can now be pre-ordered. Gareth Mitchell talks to Peek Vision's Dr Andrew Bastawrous and Stewart Jordan - and from other members of the team.
Interactive Glove for Deaf-Blind People
A German scientist has developed a glove with sensors that works with a smart phone and allows deaf-blind people to send and receive text messages. At the moment deaf-blind people use a language called LORM that requires the other person to be next to them and touch their hand. The technology aims to find ways of ending their isolation and allowing them to communicate with anyone around the world. Click hears from the researcher, Tom Bieling.
(Photo: Retinal imaging by Peek 5 © Peek)
Last on
Chapters
Phone Mapping Ebola

Using mobile phone data to track the spread of Ebola

Duration: 06:42

Peek Vision

Cheap tests with a special clip attached to a mobile phone to help save eyesight

Duration: 09:00

Interactive glove for Deaf-Blind people

Tom Bieling describes how his interactive glove helps deaf-blind people to communicate

Duration: 05:53

Broadcasts