Main content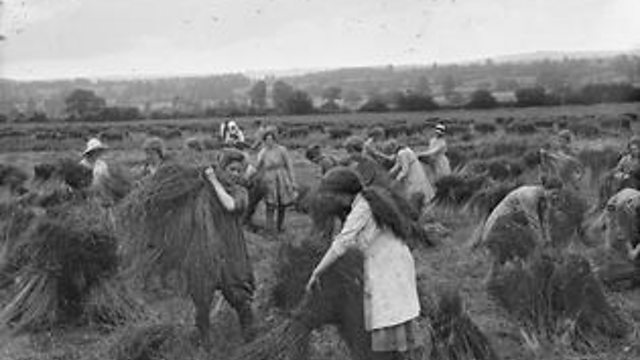 Remember the Land Girls: LAAS Training Camp, Glanusk Park, Breconshire
Womens LAAS Training Camp, Glanusk Farm, Crickhowell, Breconshire
One hundred years ago Britain was struggling to plough the fields, bring in the harvest and feed the nation. The key farm workers, with all the knowledge, had gone to war and the horses had gone too.
Wales Today's Lucy Owen and Claire Summers are on a farm in Penarth to find out what life as a Land Girl was like for the women who joined the LAAS (Land Army Agricultural Services).
On 27 April 1917, local newspapers in Wales reported on the Women's Land Army Recruitment Campaign (archive newspapers held at the National Library of Wales). It noted that "The Women's Land Army Section of the National Service Campaign is still anxious to receive applications from women who are willing to enlist to work on farms. Forms for the purpose may be obtained at every post office. The women, if deemed physically fit, will receive training at a convenient centre. Particulars of terms and conditions of employment can be obtained from the Post Office or Labour Exchange".
At this point the women of Britain began to respond and learn the skills, taught by the old farmers who remained at home. Before taking to the fields, they had to undergo a crash training course from instructors based at LAAS camps around Britian. One of these training centres was located at Glanusk Park, Crickhowell in Breconshire.
Historian Deirdre Bedow, tells us that even though Welsh women flocked to be land girls, the recruits initially got a frosty reception as the men had little confidence in their abilities. The women soon proved them wrong.
Location: LAAS Training Camp, Glanusk Park, Crickhowell, Breconshire NP8 1LP
Image : Womens Land Army 1918 courtesy of Imperial War Museum
Featuring Lucy Owen, Claire Summers and historian Deirdre Bedows.
Duration:
More clips from World War One At Home