Main content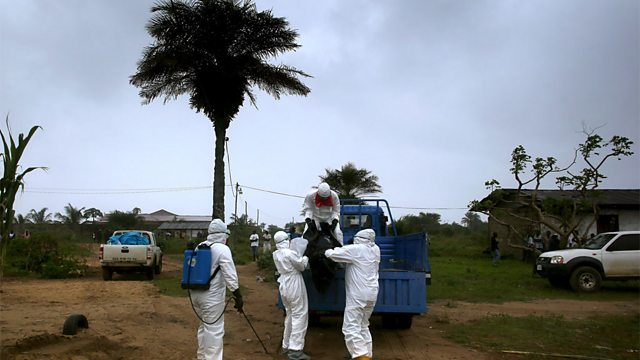 Phones Mapping Ebola
Phones Mapping Ebola, Philippines Disaster Mapping, Playable Smart Cities, Author Nir Eyal on habit-forming gadgets.
A team from SGI, GIS Federal and The University of Minnesota have created a tool using cell phone positioning data which could be used to map the spread of Ebola. The tool contains data on people movement, allows flagging one or more people as infected, backtracking where those people have been, and shows other people who may have been infected by having been in contact with infected people. Dr Andres Perez joins Click to describe how it might work.
Philippines Disaster Mapping
A collaborative project to create a free editable map of the world has been used in various useful ways following humanitarian disasters in recent years. In Haiti it was used to locate survivors in the aftermath of the 2010 earthquake. One year on from Typhoon Haiyan in which 6,000 people died in the Philippines, humanitarian volunteers are working with the Filipino government to roll out OSM training in disaster-prone areas. It is hoped that it will help communities prepare better for future disasters. Vishva Samani attended one of the workshops in the Bohol region of the country.
Playable Smart Cities
At a New Cities Foundation Paris conference, Gareth Mitchell recently met a number of inspiring entrepreneurs who have their sights set on the future of cities. He talked to the founders of organisations such as WikiHouse, Play the City and Makerversity about their ideas to make smart cities even smarter.
Hooked: Nir Eyal
We are all hooked on new technology believes the writer Nir Eyal. But it need not be all bad. In his book, Hooked: How to Build Habit-Forming Products, Eyal offers tips to companies who want to tap into the idea of consumer loyalty. But he also has tips on how to wean yourself off technology when and if it becomes too overwhelming. He joins Click to discuss Hooked.
(Photo: A Liberian burial team wearing protective clothing loads the body of an Ebola victim © John Moore/Getty Images)
Last on

Chapters
Phones Mapping Ebola

How cell phone positioning data can help to map the spread of Ebola

Duration: 03:39

Philippines Disaster Mapping

Mapping the world's disaster prone areas to help communities prepare for future disaster

Duration: 04:48

Playable Smart Cities

Making the cities of the future smarter and playable

Duration: 06:54

Hooked: Nir Eyal

Writer Nir Eyal explains how we get hooked to technical gadgets

Duration: 04:36

GPS Training

VSO volunteer Arnoud Keizer conducting GPS training in Bohol, Philippines with community leader Anita Ayuban. Used with the kind permission of VSO/Peter Caton.

Broadcasts