Main content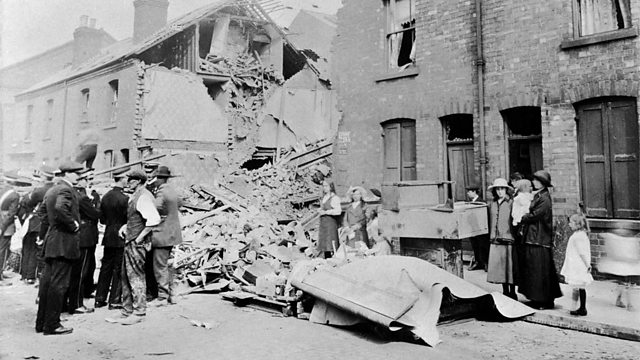 Nottingham, Nottinghamshire: Zeppelin Raid
Nottingham's first and only air raid of WW1
In the early hours of 24 September 1916, Nottingham endured its first and only air raid of the Great War. In an attack, lasting no more than fifteen minutes, Zeppelin L-17 dropped bombs in a line from Eastcroft on one side of the city to Victoria Station on the other, killing three and injuring sixteen others. The last bombs fell on Mapperley. It had been a miscalculation though, because the Commander, Kapitanleutnant Hermann Kraushaar, later returned to Germany, reporting he had hit targets in Sheffield.
The airship began its assault on the city just before 1am as people slept. A couple in their forties were the first victims when a bomb exploded on their home on Newthorpe Street, killing Alfred Rogers in his bed and propelling his wife Rosanna into the street. A young labourer, Harold Renshaw, was the third to die when an incendiary crashed through the ceiling of his house on Chancery Place in the Broadmarsh, setting fire to his clothes. His wife, who had been lying next to him, was unharmed.
Eight explosive bombs and eleven incendiaries were dropped in total and by the end the wreckage included a factory on Carrington Street, houses, telephone cables and a Methodist church in Canaan Street, which had caught fire. There was also minor damage to shops including Woolworths on Listergate.
An inquest held for the three victims following the raid ruled that they had been 'murdered by person or persons unknown, through the explosion of bombs dropped from an airship'. However, the jury went on to blame the local railway companies for keeping their lights on and exposing the city to the 'risk of attack' in the first place.
Location: Nottingham NG2 3AD
Image: Damage caused by the Zeppelin raid, courtesy of Nottingham City Council
Duration:
More clips from World War One At Home