Main content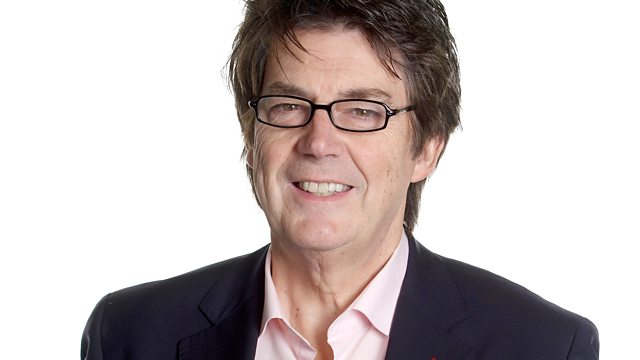 Food on Friday with Paul Clerehugh
Paul Clerehugh tells you how to cook spiced pumpkin and coconut soup, shepherd's pie and parkin. All the recipes are available for you to download below.
Last on
Spiced pumpkin and coconut soup
Ingredients
A splash of plain oil, such as vegetable oil
2 red onions, diced
Big bunch of fresh coriander
2 tsp curry powder
1½ tsp coriander seeds
1 kg pumpkin, peeled & cut into 3cm cubes
1 x 400ml tin coconut milk
2 peppers (preferably 1 red & 1 green), cut into bite-sized pieces
40g sultanas
50g ground almonds
50g frozen peas, defrosted
1 red chilli, halved, de-seeded & thinly sliced
1 lime
Handful of pumpkin seeds, toasted
Salt & freshly ground black pepper
Method
Fry the onions over a medium-high heat in a wide pan for about 5 minutes, stirring regularly until softened.
Meanwhile, chop the coriander stalks, reserving the leaves for later. Chuck the coriander stalks, curry powder & coriander seeds into the pan, stir well & fry for a couple of minutes, then tip in the pumpkin. Coat it in the flavoured oil & spices & once it's all warm on the outside, pour in the coconut milk. Bring to a simmer then reduce the heat to medium & cook for 25-30 minutes with the lid on.
Add the peppers, sultanas & ground almonds & cook for another 10-12 minutes until the pepper is softening but still has a bit of a bite to it. Turn the heat off & stir through the peas, chilli, a squeeze of lime juice & half the coriander leaves.
Season, taste & re-season as necessary, then serve in mugs or bowls with coriander leaves & toasted pumpkin seeds scattered on the top.
Shepherd's pie
Ingredients
675g lamb, coarsely minced (shoulder is a good cut)25g lamb or beef dripping or 2 tbsp cooking oil
Butter
3 onions, finely chopped
3 carrots, cut into 1cm dice
4 celery sticks, cut into 1cm dice
½ tsp ground cinnamon
½ tsp chopped fresh thyme
½ tsp chopped fresh rosemary
1 tbsp tomato puree
2-3 glasses red wine
25g plain flour
200ml stock
Salt and pepper
2 tsp Worcestershire sauce
900g mashed potatoes, made with very little butter and milk
Method
Season the minced lamb with salt and pepper. Fry the lamb in the dripping or oil on a very hot heat to seal and brown the meat.
Melt a knob of butter in a separate frying pan, add the vegetables, season with salt, pepper and cinnamon and then add the fresh herbs.
Cook for approximately 5 minutes until the veg has started to soften. Add the fried lamb, cook over a medium heat for a few minutes and add the tomato puree and Worcestershire sauce.
Add the red wine, the more you add, the richer the finish. Add only half a glass at a time, reducing each by three quarters. Sprinkle in the flour and cook for a few minutes.
Pour in the stock and bring to a simmer. Cook for 1 – 1½ hours. If during this time the sauce becomes too thick, add a little water to loosen.
Start making the mashed potatoes during the last half hour of cooking time.
Once the mince is ready, spoon into an ovenproof dish and spoon or pipe the mashed potatoes on top. The potato can be brushed with a little butter or sprinkled with a little grated cheese and put under a hot grill to become golden.
Parkin
Ingredients
115g butter, plus a bit more for greasing
225g plain flour
1 tsp bicarbonate of soda
2 tsp ground ginger
1 tsp ground cinnamon
1 tsp mixed spice
½ tsp salt
110g coarse (pinhead) oatmeal
175g dark muscovado sugar
3 tbsp golden syrup
115g black treacle
150ml milk
1 large egg, beaten
Method
Preheat the oven to 180C and grease a (preferably non-stick) loaf tin with butter. Sift the flour, bicarbonate of soda, spices and slat into a bowl. Stir in the oatmeal and sugar and make a well in the centre.
Melt the butter, syrup and treacle over a low heat, whisking to emulsify. Remove from the heat and let cool.
When cooler, mix into the flour mixture with a wooden spoon, then beat the egg and milk together and stir into the mixture until well mixed.
Pour the mixture into the tin and bake for 45-50 minutes, leaving the mixture slightly soft to the touch.
Leave to cool for 30 minutes or so before turning out.
Broadcast