Main content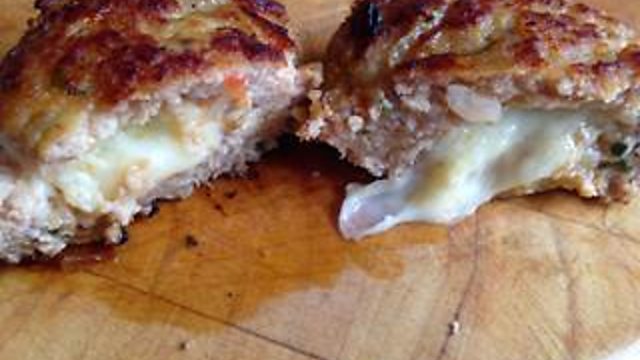 Food Friday burger
Food Friday burger which you can cook yourself or if you've got any children handy, they can help too. Recipe is from Janine Finch in her kitchen in Leicester Forest East
Pork and Apple Burgers with Oozing Mozzarella:
Ingredients:
(Makes Approximately 5-6 burgers)
- Approximately 500g of Pork Mince
- 2 Tbsp of Rapeseed Oil
- 1 large onion diced finely
- 1 Clove of Garlic finely chopped
- Half of one side of an Apple Grated ( I used English Gala )
- 1 Level Tbsp of Sage
- 1 Level Tbsp of Fresh Parsley
- Salt and Cracked Black Pepper to season
- 1 Tsp of Dijon Mustard
- 1 Tbsp of Tomato Puree
- 1 1/2 slice of White bread into Breadcrumbs
- 1 Ball of Mozzarella
- BreadBuns
- Salad= I used Iceberg lettuce, Round lettuce, tomato, onion and cucumber
Method:
- Preheat Oven at 190c,
- Fry off your chopped Onion and Garlic in a splash of Rapeseed oil in a Frying Pan until Golden brown,
- Mix all ingredients together (minus oil) into a mixing bowl with your Hands,
- Roll a small handful of the mixture into a ball, Press an inch sized ball of the Mozzarella into the middle, roll back into a ball and flatten into a burger.
- Repeat process for how many burgers you need.
- Fry off Burgers into a separate frying pan 3-4 minutes each side and then place onto a baking tray for about 12 minutes.
- In the meantime Prepare your Salad and Buns and a minute or two before the burgers are done, Place Buns open on a tray to toast slightly.
- Assemble and tuck in!
Duration:
More clips from Ben Jackson