Main content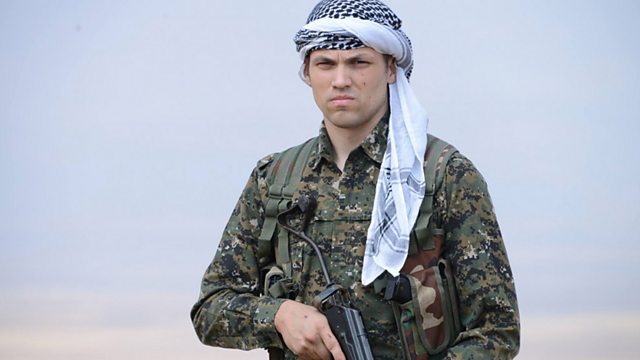 Beyond the Call of Duty
How former US soldier Jordan Matson is fighting the Islamic State in Syria. Plus, the Royal Airforce's openly transgender officer, and the Sikh-American who is Captain America.
President Obama insists there are no American combat troops in Iraq and Syria, and that there are no plans to deploy any. But we meet an American ex-military man who's gone to fight with the Kurds against Islamic State.
Also, the Royal Air Force's first openly transgender officer has a message for the Pentagon regarding the US military's ban on transgender people serving. And, a former American soldier shares her experience of transitioning from male to female during a deployment to Afghanistan. Plus, a visual journalist uses a pencil - not a lens - to capture images of war in Afghanistan. A photographer documents the surreal landscape of the US detention centre at Guantanamo Bay. And a Sikh-American combats stigma and prejudice by making people laugh.
(Photo: Former US soldier Jordan Matson, who joined a Kurdish militia group fighting IS in northern Syria. Courtesy of Jordan Matson)
Chapters
Fighting IS

Why former US soldier Jordan Matson went to Syria to fight the Islamic State

Duration: 04:26

Transgender Pilot

The RAF's first openly transgender officer says competence trumps prejudice

Duration: 02:49

Pentagon Policy

Why the US military bans transgender people from serving openly in the armed forces

Duration: 04:46

War Sketches

A graphic artist captures images of war in Afghanistan with a pencil

Duration: 04:03

Guantanamo's Double Life

A lawyer-turned-photographer documents 'Gitmo at Home, Gitmo at Play.'

Duration: 04:41

Sikh Superhero

A software engineer by day becomes Captain America by night

Duration: 04:26

Podcast

How the world looks through American eyes, and the myriad and unexpected ways that the world influences the United States.