Main content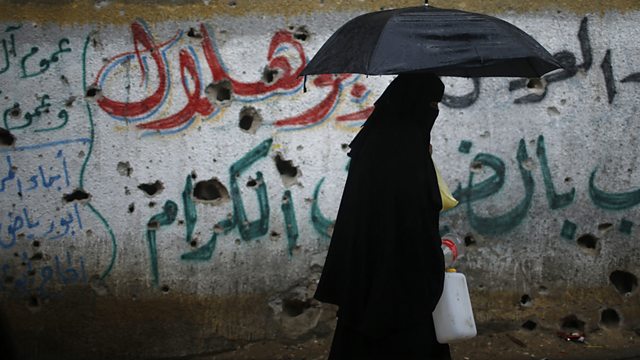 After the Ceasefire: the Cost of Reporting Gaza
How do you cope when your home is a conflict zone? And why - if you're Chinese - you may not want to call yourself Dumbledore; and the story of Guerrero state in Mexico
For years he has been BBC Arabic's man in Gaza, reporting and living through conflict and peace time. We last spoke to Shahdi Alkashif during the recent offensive, when rockets and mortars were raining down between Gaza and parts of Israel. More than 2,000 people died during that particular conflict. Shahdi told us that he had spent 27 nights sleeping on the floor of the BBC office, battling with a lack of electricity and food and water, and trying to make sure that his family were safe. The ceasefire has now been in place for two months and Shahdi talks about how his family and others in Gaza are living today and some of the difficulties of living in and reporting conflict.
Shabana Azmi
One of the best known actresses of her generation, Shabana Azmi has appeared in more than 400 films. She has recently been touring the UK in a production called Happy Birthday Sunita and speaks to BBC Hindi's Vandana Vijay.
East Asian Naming Conventions
Many East Asians living or working abroad choose to adopt a "western name" to avoid having a name their friends and colleagues find difficult to pronounce. This week the Chinese TV station CCTV published a web article advising readers on how to choose an appropriate name - and unfortunately names like Dumbledore, Lawyer, Fish and Candy were ruled out. Our colleagues in BBC Chinese tell us how they chose a western name and share some of the more unusual ones they've come across.
Story of Guerrero
The state of Guerrero in Mexico has a pretty bad name right now. Back in September, 43 students disappeared in the region and they still haven't been found. Mass graves have been unearthed but their grizzly contents have so far proven to be of other unknown casualties. Guerrero is a state that is renowned for violence - it is a region that has a long history of upheaval. This was the starting point of the Mexican Revolution back in 1910. The BBC's Lourdes Heredia tells us the story of the turbulent state - a place that has long been home to her family.
Saudi's Secret Uprising
At the end of this month, BBC Arabic are launching a new film festival, Aan Korb. Their opening gala will be a screening of a BBC Arabic film, Saudi's Secret Uprising, which documents largely unreported protests by a Shia minority in Saudi Arabia. Filmmaker Safa Al Ahmad explains why it was such a difficult documentary to make.
Online Greatest Hits
Digital diva Fifi Haroon gives the lowdown on the weird and wonderful stories across the web, including ancient Scottish sex and the potato that can light a room for 40 days.
The Fifth Floor is presented by David Amanor.