Main content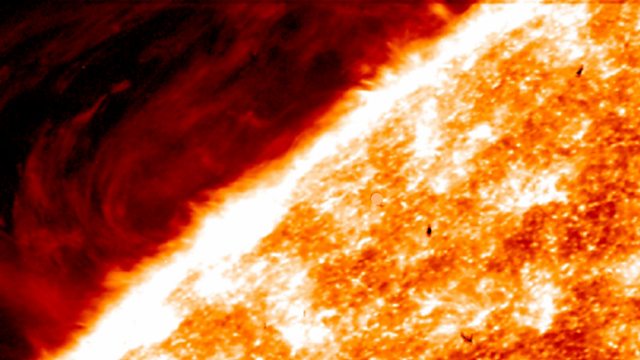 Sun Research
What the Interface Region Imaging Spectrograph (IRIS) satellite can tell us about the sun.
The first results from NASA's Interface Region Imaging Spectrograph (IRIS) satellite are in. Launched in June 2013, IRIS looks at the middle region of the Sun – this part emits ultraviolet light which is not visible from Earth and so has previously not been well understood. Equipped with new information from IRIS, researchers explain what they have learnt about this elusive region of the Sun in a series of five papers published in Science. Dr Hui Tian and Dr Ed Deluca from the Harvard-Smithsonian Centre for Astrophysics in the US explain what they found.
Cyclone Hudhud
Cyclone Hudhud recently hit India's east coast, bringing wind speeds of up to 205km/hour and heavy rainfall. It has caused widespread damage to power lines, buildings, trees and crops, prompted the evacuation of up to 350 000 people and cost a number of lives. Navin Singh Khadka, BBC World Service environment reporter, has the latest on the situation.
Using Maths to Predict Floods
Floods and related landslides can be some of the most devastating natural disasters for populations, both in terms of immediate danger and also long term and economic impacts, but our current forecasting methods are not great at predicting the timing and intensity of this rainfall. Now, using 15 years-worth of satellite data, a team of international researchers have developed a straightforward mathematical tool that could be used to predict these rainfall events. We hear from Dr Jose Marengo, who did the work from the Centre for Earth Systems at the National Institute for Space Research, and Niklas Boers, a PhD student and lead author of the paper, from the Potsdam Institute for Climate Impact Research in Germany.
Sniffer Flies
New research has revealed the fruit fly's surprising ability to sniff out a range of hazardous chemicals – an ability that could soon see their 'noses' being used to detect drugs and explosives. An international team of scientists discovered that the fruit fly's smell neurons were not only able to detect and respond to smells that were familiar to them, like rotting fruit, but also a whole range of smells associated with explosives, illicit drugs and combustion products. Lead author of the research, Professor Thomas Nowotny from the University of Sussex, explains how the fly's smell neurons could make future electronic detection devices much faster and more sensitive.
Image: IRIS' First Glimpses of the Sun. Image credit NASA / LMSAL / IRIS
Presenter: Jack Stewart
Producer: Ania Lichtarowicz
Last on

Chapters
Sun Research

The first results from NASA's IRIS satellite are in.

Duration: 08:20

Cyclone Hudhud

Cyclone Hudhud hits the eastern coast of India.

Duration: 03:04

Using Maths to Predict Floods

A mathematical tool is developed to predict floods in the South American Andes.

Duration: 06:19

Sniffer Flies

Scientists discover the fruit fly's ability to sniff out dangerous chemicals.

Duration: 07:49

Broadcasts