Main content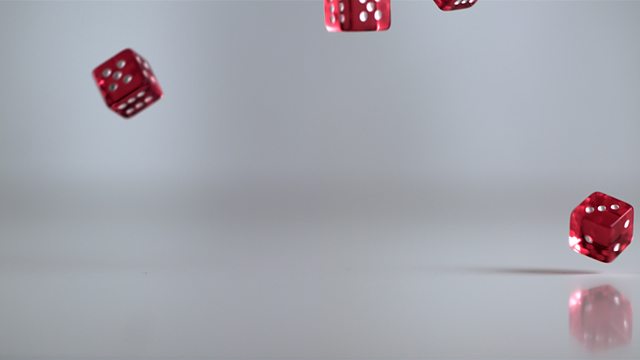 Uncertainty
Exploring uncertainty and how to deal with it in the modern world. With Jordan Ellenberg, Rupert Read and Namwali Serpell.
Can you be certain about anything these days? How much certainty do we need in our daily lives? In an intriguing discussion about uncertainty Bridget Kendall brings together three people with different perspectives to share their thoughts and expertise. Mathematician Jordan Ellenberg explains how a new kind of statistics deals with randomness as well as certain logic, philosopher Rupert Read argues that we should act when facing serious situations like climate change without absolute evidential certainty and writer and literary scholar Namwali Serpell explores how novelists use uncertainty to captivate and challenge their readers.
(Photo: Dice being rolled. BBC copyright)
Chapters
Jordan Ellenberg

We shouldn't think of maths as a series of cast iron rules

Duration: 13:17

Rupert Read

We don't need certainty of evidence to act if we are in great danger

Duration: 08:49

60 Second Idea

Citizen jury to protect future generations

Duration: 05:11

Namwali Serpell

Relationship between the modern novel's capacity to unsettle us and its ethical value

Duration: 12:21

Jordan Ellenberg

Professor of Mathematics Jordan Ellenberg is the Vilas Distinguished Achievement Professor of Mathematics at the University of Wisconsin. He says that mathematics is not just a sequence of computations but a science of not being wrong. It's a study of things that came out a certain way because there is no other way they could possibly be. He also talks about how statistics is accommodating randomness.

Rupert Read

Philosopher Rupert Read is Chair of the 'Green House' think tank. He is a Reader in Philosophy at the University of East Anglia and co-editor of The New Wittgenstein. Rupert believes that when we are faced, as a society, with great peril or ruin, we should act on the evidence we have and not wait for certainty.

Namwali Serpell

Zambian-born author Namwali Serpell is Assistant Professor of English at the University of California, Berkeley. She says that there's a relationship between the modern novel's capacity to unsettle and perplex us and its ethical value, in other words how authors uses uncertainty to engage and explain.  

60 Second Idea to Change the World

Rupert Read wants to protect future generations from short term political decision making by assigning randomly chosen citizens to a kind of powerful super jury that aims to serve the basic needs and rights of those people not yet born.