Main content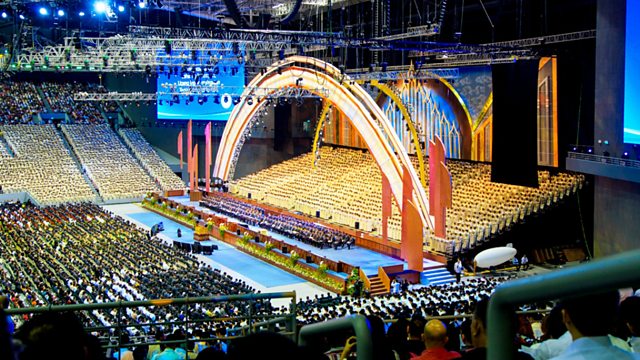 Iglesia Ni Cristo: Building the One True Church
Janak Rogers investigates the powerful Philippine church Iglesia ni Cristo whose financial and political influence goes to the very top of Philippine society.
In the middle of the city of Bulacan, in the Philippines, stands a huge, futuristic building, all steel and glass and surrounded by beautifully landscaped gardens. With a capacity of 55,000 people, it looks like a venue for the biggest sporting events or concerts from the world's biggest rock groups.
The arena is actually a church, a modern cavernous place of worship and a huge statement of power and financial muscle made by the Iglesia ni Cristo, one of the most dynamic and influential Christian groups in south-east Asia.
The Philippines is a country where Catholicism has traditionally been deeply entrenched, but the Iglesia ni Cristo are proving to be a formidable spiritual force in the country, despite the fact that only a relatively small percentage of the country are members and the religion itself is only 100 years old. Their financial and political influence goes to the very top of Philippine society, with the President himself attending the building's opening in July this year.
Central to the religion is the idea that Jesus will return to Earth in the east, creating a new centre of Christianity – an idea that is at odds with the traditional teachings of the Catholic Church. Some Catholics call Iglesia ni Cristo followers apostates and suggest the new religion is a cult, but the religion now has a growing following in the Philippines and commands influence right at the very top of the country's government.
Against the background of the debate over the Reproductive Health Bill which has split this generally conservative country, Janak Rogers explore who the INC is, and how far the influence of this small but conspicuously wealthy group can spread.
(Photo: Iglesia Ni Cristo arena courtesy of INC)