Main content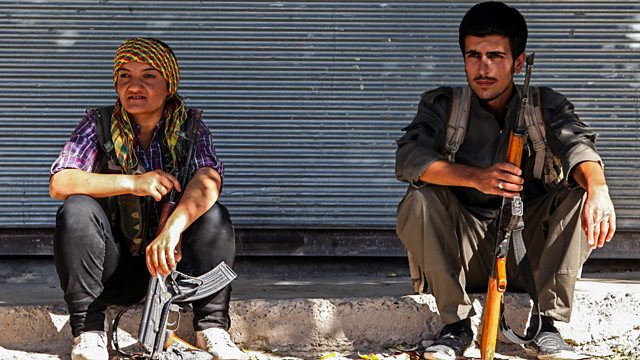 The Battle for Kobane - the Kurdish Way of War
Kurdish battle songs and dances against IS militants; Rum-making in Cape Verde; Sri Lankan oral histories; Reporting health epidemics - from SARS to Ebola; and Finding Fela
This week the world has been watching Kobane - the Syrian border town that has been fiercely fought over by Islamic State militants and Syrian-Kurdish forces. Amongst the air-strikes, shelling, gunfire, and ambulance sirens you might also hear some unexpected sounds - that of Kurdish fighters singing jubilant weddings songs and ululating at IS tanks. Turkish-Kurdish journalist Guney Yildiz reports on the Kurdish tradition of singing and dancing on the frontline.
The Story of Rum in Cape Verde
Cape Verde is world renowned for its beautiful beaches and musicians. But one island in Cape Verde made its reputation elsewhere - with rum. For centuries on Santo Antao Island people have distilled "grog" from locally grown sugar cane and the whole economy of this tiny island depends on rum-making. But in Cape Verde, rum - also called 'Aguardente', the burning water - is not just any product, it is part of the culture. BBC Afrique's Laeila Adjovi takes us to a place where all the roads lead to rum.
Sri Lankan Oral Histories
Kannan Arunasalam is a Sri Lankan-born British journalist and filmmaker. He's created an oral history project to preserve the memories and stories of Sri Lanka's elderly from different regions, communities and walks of life. He tells us why he started the project and what he discovered about Sri Lanka - it's past and present - by listening to the people who have known the country longest. He is joined by Priyath Linyanage, Editor of the BBC's Sinhala language service who shares his thoughts on some of the stories recorded for the project.
Online Greatest Hits
Digital diva Fifi Haroon gives the lowdown on the weird and wonderful stories across the web, including Disney as legal tender and sailing on a Korean boat made out of crisp packets.
Reporting Health Epidemics - from SARS to Ebola
The killer bug SARS infected and killed thousands of people over a relatively short period of time back in 2003. The fear of infection, the lockdown of cities, and the terrifying predictions of its potential global spread is something people are experiencing yet again with Ebola. Now, SARS and Ebola are two very different diseases but the responses to them share many similarities - Yuwen Wu of BBC Chinese and Akwasi Sarpong from BBC Africa reflect on some of the challenges in reporting both of these health scares.
Finding Fela
It's 17 years since the death of Nigerian megastar Fela Kuti, but the man and his music continue to be a potent symbol of opposition to authority in Africa. Next week a new documentary on his life and his music will premiere in Lagos. Finding Fela looks at the life and times of the man that was to Afrobeat what Bob Marley was to reggae. Peter Okwoche, from BBC Africa explains why Fela changed the way Nigerians felt about themselves.
The Fifth Floor is presented by Alex Jakana.
Last on