Main content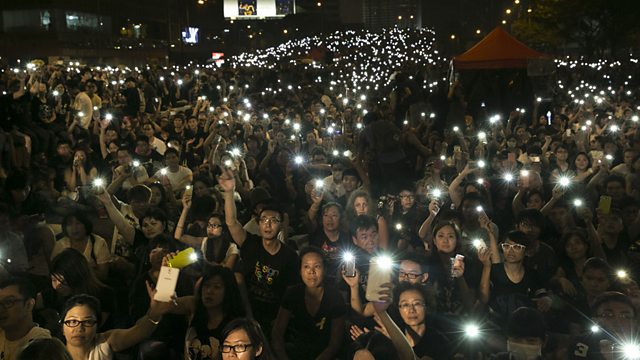 Hong Kong Digital Protest
Hong Kong digital protest; A short history of the highrise; Money no object; Slo Mo Guys
Technology has been at the centre of protests in Hong Kong. You only have to look at images of thousands of protesters with their smart phones raised aloft to realise how instrumental these increasingly ubiquitous tools of communication have become. But, amid tales of fake apps and privacy concerns, Click talks to Charles Mok, the Legislative Council Member representing IT about the role and impact of technology in the protests.
A Short History of the Highrise
A fascinating collaboration between the New York Times and Canadian film makers has resulted in the documentary, A Short History of the Highrise, in which residents of tower blocks were asked to send in photos and archives that would be used to make an interactive film. That film has now been made and has received a number of awards. Click hears from the director, Katerina Cizek, about how the film came together.
Money No Object
What would happen if money could offer a different kind of value proposition, and triggered a more creative and enriching means of exchange? The artist and researcher Heidi Hinder has been developing Money No Object, supported by Creativeworks London to create a series of wearable payment systems, that each effect a financial transaction through a social gesture. Hinder dons her digital glove to demonstrate one of the transaction-gestures with Gareth Mitchell.
Slo Mo Guys
The Slo Mo Guys are an example of how YouTube stars have become more popular than some mainstream celebrities. Their short, five minute videos have garnered millions of views. Gareth Mitchell volunteers for one of their projects to be smacked in the head with a football filled with water – with startling results when filmed with a high-end slow motion camera.
(Photo: Tens of thousands of democracy protesters hold up lights from their mobiles in Hong Kong © Paula Bronstein/Getty Images)
Last on
Chapters
Hong Kong Digital Protest

Hong Kong protestors beware digital pitfalls

Duration: 04:28

A Short History of the Highrise

Behind the scenes with Katerina Cizek for A Short History of the Highrise

Duration: 06:47

Money No Object

Heidi Hinder's plan to put touch back into monetary transactions

Duration: 04:57

Slow Mo – Mitchell Volunteer

Gareth Mitchell volunteers to be smacked in the face for a Slo Mo YouTube film

Duration: 05:14

Broadcasts