Main content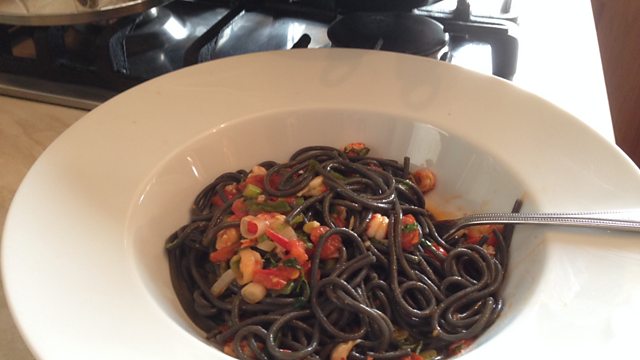 Food Friday - Crayfish linguine
Food Friday cook Janine Finch
Squid Ink Linguini with Crayfish Tails,Tomato,Chilli and Garlic:
Ingredients:
(Serves 2)
- Approximately 200 g of Squid ink ( Cuttlefish )Linguini or Spaghetti
- A 120 g Pack of Cooked and peeled Crayfish Tails ( About 3/4 of the pack is enough for 2 people)
- A good "Glug" of Olive Oil
- 2 cloves of Garlic Finely Chopped
- 1/4 Red Chilli Finely Chopped
- 2 Sliced Spring Onions
- Almost half of a little pot of Fish stock (I used a Knorr pot)
- A good Splash of Dry White Wine ( I used Sauvignon Blanc)
- 1 Tbsp of Tomato Puree
- Approximately 10 Baby Plum Tomatoes chopped into 4
- A pinch of Caster Sugar
- Cracked Black Pepper
- A Handful of chopped Fresh Basil and Fresh Flat leaf Parsley
Method:
* Pop your Pasta into a boiling pan of Salted Water and cook for approximately 10-12 minutes or to packet instructions.
* In a Frying/Saute Pan, Start to fry off the White ends of the Spring Onions and Chilli in Olive oil.
* Add the Garlic and fry for another minute.
* Pop in then the White Wine and start to simmer, reducing only slightly.
* Add the tomato Puree, Tomatoes, Pinch of sugar and cracked Black Pepper. Cook for another minute or 2.
* Add a little splash of water to the sauce. Taste...it may need a little more sugar to sweeten.
* Put the rest of the Spring onions (Green parts) into the sauce.
* Drain your Pasta keeping a little of the water and place the pasta into the sauce. Add the Crayfish and coat all the ingredients around the pasta.
* Finally add your chopped herbs when the Crayfish are hot and Serve!
Duration:
More clips from Ben Jackson