Main content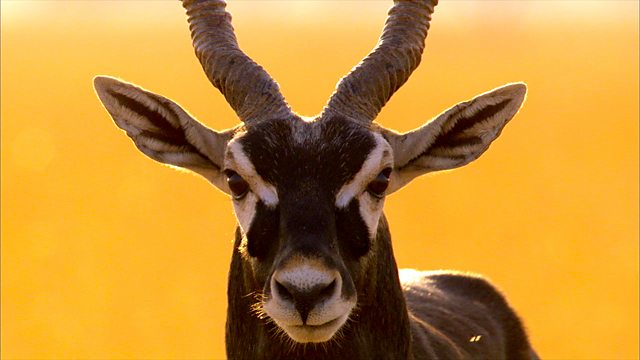 Series exploring the greatest weather system on earth. During the part of the year that the monsoon does not bring rain, the winds reverse, bringing dry air instead.
During the part of the year that the monsoon doesn't bring rain, the winds reverse, bringing instead dry air and even drought to large parts of the region.
Fed by the previous rains, budgerigars swarm in the Australian desert. They congregate at a precious waterhole. Birds of prey try to ambush them but are mesmerised by the kaleidoscope of yellow and green.
On Borneo, one bearded pig has worked out a strategy for surviving this lean time of year. He heads straight for the beach and uses his snout to hunt for seafood. Ghost crabs burrow deep into the sand, but the pig sniffs them out and digs them up.
In the Rajasthan desert, drought-loving camels provide vital transport for its inhabitants. Pushkar hosts the world's largest camel fair early in the dry season. Amongst the attractions, nomads haggle over the price of a camel.
In Sri Lanka, now that food is hard to find, Asia's largest gathering of elephants is seen at an ancient man-made lake, where the receding waters unveil fertile areas of fresh grass.
At a nearby waterhole, the mugger crocodiles stalk the prey that is forced there to drink. But a young leopard, learning to hunt under the cover of darkness, discovers that there is no easy meal.
On the golden plains of India, blackbuck take the challenge of the drought head-on. Young bucks battle at noon to find out who is tough enough to get the territory and the females.
Finally, the monsoon winds reverse once more. They will soon bring rain again but only after the sandstorms...
Last on
Music Played
Timings (where shown) are from the start of the programme in hours and minutes
00:01

Berk and The Virtual Band

Change
Credits
| Role | Contributor |
| --- | --- |
| Narrator | Colin Salmon |
| Producer | Nick Lyon |
| Series Producer | Paul Bradshaw |
| Executive Producer | Chris Cole |
| Executive Producer | James Honeyborne |
Featured in...
Unearth the mysteries of this world, its people and wildlife.

Programmes celebrating life, Earth, and our place in the Universe