Main content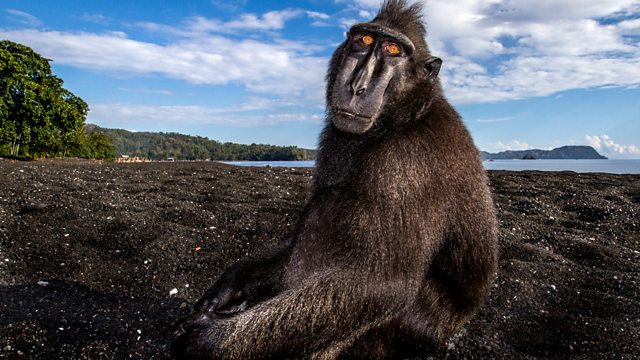 Series exploring the greatest weather system on Earth. On the Indonesian island of Sulawesi, the combination of monsoon and volcanoes has created a paradise.
On the Indonesian island of Sulawesi, black crested macaques thrive in large troops. They are amongst the most 'loving' of monkeys, showing affection not just amongst close family, but across the whole group. A key reason is the abundance of fruit brought by the monsoon climate, providing enough for everyone.
On the beach, maleo birds, another species found only on Sulawesi, take advantage of the equatorial sun-heated sand to incubate their eggs before the storms come. There is fierce competition for the best spots. But some maleo birds bury their eggs in the forest, exploiting the underfloor heating provided by volcanic activity.
The combination of monsoon and volcanoes has created a paradise. The towering peaks help to precipitate even more rain and volcanic ash fertilises the plants. In thanks for this, locals in Java climb the volcano to offer goats and chickens as live sacrifices to its god.
But in rainswept Borneo, there are no active volcanoes. Over thousands of years, the frequent and heavy rains of the tropical monsoon have destroyed the soil. The ensuing cut-throat competition for scarce nutrients has driven evolution to produce some curious characters. Pitcher plants have evolved ingenious ways to trap food. The rajah brooke's pitcher entices tree shrews, not to eat them, but to encourage them to relieve themselves so the plant gets the nutrients it needs.
Fallen leaves and dead matter are hungrily snapped up by a motley crew of scavengers. Amongst the most sinister is the giant Bornean red leech, which preys upon the giant blue earthworm, swallowing the whole thing in one gulp.
All of this serves to feed the kings of the forest, in the end, as the nutrients of all these creatures return to the trees.
Last on
Music Played
Timings (where shown) are from the start of the programme in hours and minutes
00:55

Meditation Spa

She Steps Lightly
Credits
| Role | Contributor |
| --- | --- |
| Narrator | Colin Salmon |
| Producer | Kathryn Jeffs |
| Series Producer | Paul Bradshaw |
| Executive Producer | Chris Cole |
| Executive Producer | James Honeyborne |
Featured in...
Unearth the mysteries of this world, its people and wildlife.

Programmes celebrating life, Earth, and our place in the Universe