Main content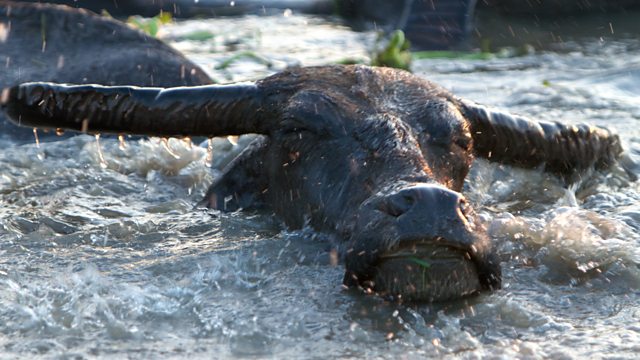 Series exploring the greatest weather system on earth. From India to Thailand and Cambodia, the Asian monsoon makes its grand entrance, the bringer of life and the destroyer.
With a whisper on the wind, pre-monsoon showers come to Thailand. Assamese macaque monkeys play in the waters and gorge themselves on a monsoon delicacy of water snails.
To the west, in India, huge banks of cloud roll in, heralding four months of incessant rain. The rains trigger a dramatic response. Male Indian common toads are transformed yellow-gold for just one day. It is their big chance to mate. Within days, insects are everywhere. New filming techniques show, for the first time, how mosquitoes survive the impacts of giant raindrops. Fresh grass draws nomads and their vast herds of livestock back to their homelands. But they are stalked by hungry wolves and hyenas, which move in at night for the kill.
In the far north east of India, exceptional rain from the Bay of Bengal combines with meltwater from the Himalayas to create catastrophic floods in the river Brahmaputra. It floods Kaziranga National Park, forcing a herd of elephants to make the perilous journey across a busy road and come into conflict with humans before they can reach the safety of the hills.
In Cambodia, the Mekong swells so much that water is forced backwards up its tributary, the Sap, to fill the vast Tonle Sap Lake - one of the most productive freshwater fisheries on earth. It is time for the comical 'snakebird school', where darter chicks learn how to catch fish. Under the water, the sinister frog-faced soft-shelled turtles lurch out of the river bed to snatch passing fish.
Finally, monsoon rainwater flows back through the great rivers of Asia to the Indian Ocean. It brings with it a vast lode of nutrients. Year round, blue whales congregate off the coast of Sri Lanka in search of the bounty that the monsoon brings.
Last on
Credits
| Role | Contributor |
| --- | --- |
| Narrator | Colin Salmon |
| Producer | Jonathan Clay |
| Series Producer | Paul Bradshaw |
| Executive Producer | Chris Cole |
| Executive Producer | James Honeyborne |
Featured in...
Unearth the mysteries of this world, its people and wildlife.

Programmes celebrating life, Earth, and our place in the Universe