Main content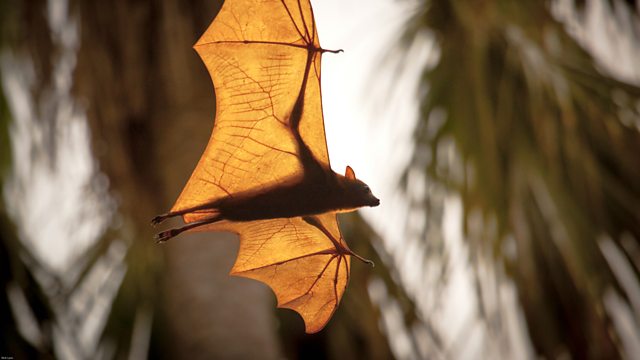 Series exploring the greatest weather system on earth. From India to Australia, all life awaits the transforming power of the monsoon rains.
From India to Australia, all life awaits the transforming power of the monsoon rains.
Our story begins in the southern extreme of the monsoon region, northern Australia. It is the end of the dry season and 300,000 little red flying foxes gather to drink. They skim the river, collecting water on their bodies, but they run the gauntlet of Australian freshwater crocodiles that launch out of the water to catch them.
The sun-baked continent causes hot air to rise, sucking moist monsoon winds in from the coast and dramatic electrical storms herald the first rains.
A frilled lizard wakes from his torpor to hunt insects, displaying his startling frills to defend his territory.
On Christmas Island, the rains trigger an amazing spectacle - millions of red crabs migrate from the forest to the coast in order to spawn. Whilst they wait for rain, a mother Sumatran orangutan guides her youngster to where she knows a fig tree fruits at this time of year.
Across the region, the dependability of the monsoon has been the foundation for great civilisations. But the vast ruins of Angkor in Cambodia bear testament to what can happen when monsoons fail.
The Indian monsoon approaches. In the Delhi stock exchange, the price of rice escalates every day the rains fail to materialise. In an ancient ceremony, priests submerge themselves in water and beseech Varuna, god of water, to come.
At a shrinking waterhole, chital deer gather nervously. This is the most dangerous time of year. A tiger is bearing down on them, and not all will live to see the revitalising rains.
Peacocks begin to display as they sense the monsoon coming. On the horizon, bubbling clouds are approaching. The first drops of the monsoon appear on the parched ground - at last the monsoon is here.
More episodes
Previous
You are at the first episode
Credits
| Role | Contributor |
| --- | --- |
| Narrator | Colin Salmon |
| Producer | Kathryn Jeffs |
| Series Producer | Paul Bradshaw |
| Executive Producer | Chris Cole |
| Executive Producer | James Honeyborne |
Featured in...
Life in some of the world's most remote and beautiful locations.

Programmes celebrating life, Earth, and our place in the Universe