Main content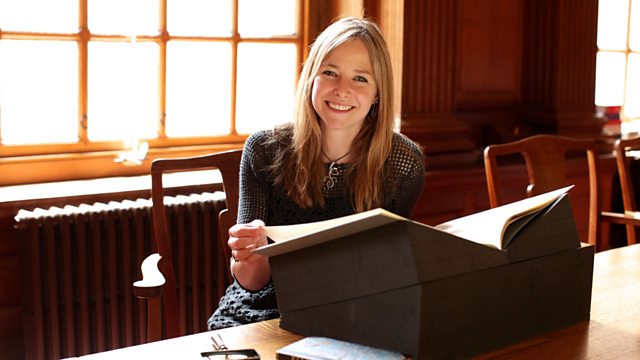 Frankenstein
In Mary Shelley's Frankenstein manuscripts, Alice Roberts finds someone concerned with the act of creation itself and evidence of husband Percy's collaborative role.
Some 200 years since it was written, Mary Shelley's Frankenstein is now shorthand for the horrors of science run amok. But when author and anatomist Professor Alice Roberts returns to the 18-year-old Mary's manuscripts, she finds someone concerned with the very act of creation itself. She also discovers clues of another writer's influence, someone very close to Mary.
Alice's travels take her to the Villa Diodati in Geneva, where Mary and her partner Percy spent time with Lord Byron and she conceived the idea of Victor Frankenstein's creature. By showing the disastrous results of the obsessive Victor's attempts to create life, Mary is seen to be critiquing the Romantic ideal of the solitary, creative genius, a notion associated with poets Percy Shelley and Byron. Surprisingly, when examining Mary's original manuscript at the Bodleian Library in Oxford, Alice also sees written evidence of Percy's collaborative role in the creation of Victor.
In considering the influence of Mary's parents - her father was the radical philosopher William Godwin and her mother Mary was the author of A Vindication of the Rights of Women - Alice further shows that the ideas informing Frankenstein make the novel much more than a simple horror story. Mary's account does deal in death, but ultimately it provokes us to ask questions about how we live.
Produced in partnership with the Open University.
The Bodleian Library has several pages devoted to their Frankenstein manuscripts.
Shelley-Godwin Archive project
The Shelley-Godwin Archive project provides complete reproductions of both the working draft of Frankenstein and the more fragmentary fair copy. It also features notes from Charles E Robinson, whose influential manuscript analysis detailed the writing relationship between Mary and Percy Shelley.
Credits
| Role | Contributor |
| --- | --- |
| Presenter | Alice Roberts |
| Series Producer | Allan Campbell |
| Executive Producer | Richard Bright |
| Producer | Morag Tinto |
| Director | Morag Tinto |
Featured in...
A celebration of all things Gothic, exploring literature, architecture, music and art.