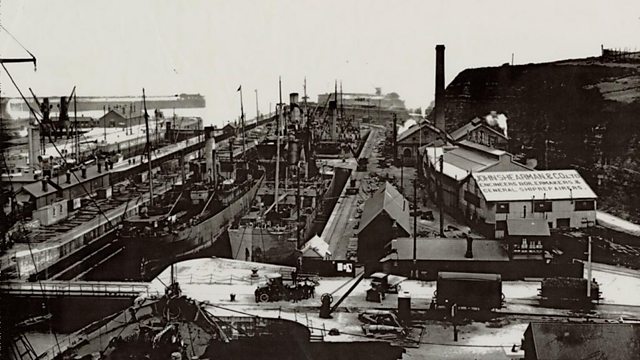 Barry Docks: The U-Boats Mission to Starve Britain
By 1914, the year before the outbreak of World War One, Barry Docks, in the Vale of Glamorgan had surpassed both Cardiff and Penarth to become the largest coal exporting port in the country.
The docks themselves were surrounded by dozens of business enterprises, everything from repair yards and cold storage facilities to flour mills and shipping agents. So when the German U-Boat campaign hit Britain's imports and exports in 1917, Barry docks felt the impact.
To begin with, up until about 1916, people in Britain didn't realise there was a food shortage. 60% of food in Britain was imported so the potential was always there to cause disruption.
Bread had gone up in price. A lot of tinned goods had been sold out very quickly as people began to stock pile as no one knew how long the war would go on, but for a year or two real food shortages didn't occur.
Beer went up by a half-penny a pint. but that was because of the difficulty of getting the grain and the wheat and the barley to make the stuff, but by and large there were no real hardships.
The only hope that Germany had of winning the war at sea was through the U-Boats – the submarines, and with the result that the Germans put huge emphasis into building their submarine fleet.
The U-Boats objective was not to sink ships, but to starve Britain. Pretty soon the submarines were operating in the seas surrounding Britain and sinking merchant ships, including those destined for and from Barry Docks, at a rate of knots.
The British Government was loathed to implement a policy of food rationing as that would have been a tacit acknowledgement that Britain no longer ruled the waves which it had prided itself on since the days of Nelson, but by April 1918 they were forced to introduce food rationing.
Potatoes became the staple diet, but disaster struck when crops, including many farms in the Vale of Glamorgan, were hit by the deadly Wart Disease.
Historian, Phil Carradice explains how the hardships originated during WW1 and from the BBC Wales archives, filmed in 1993, some real, first hand memories of home-front food from people who lived in Wales during the Great War including the late Dilys Lewis from Llanllechid and Myfi Jones from Llangernyw.
Location: Barry Docks and the Vale of Glamorgan, CF62 5QS
Image courtesy of Barry Library
Contributors: Historian, Phil Carradice, The late Dilys Lewis from Llanllechid and Myfi Jones from Llangernyw.
Featured in...
A selection of stories from At Home's November release.

Clips from programmes, WW1 footage & slideshows

Places in Wales that tell a story of World War One