Main content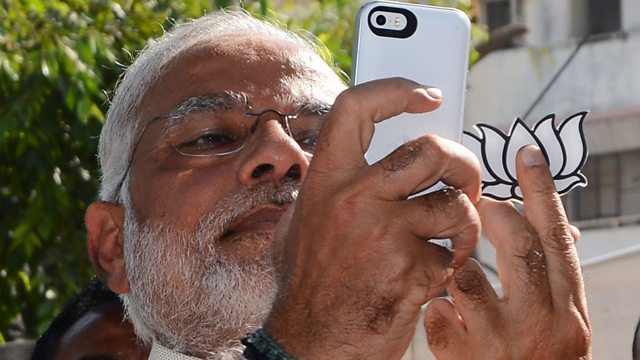 Modi on Twitter
Modi's Twitter vs Mainstream; Virtual Surgery; Ring the Changes+
Marshall McLuhan famously foresaw that the medium would become the message. If that is so, then as far as the prime minister of India, Narendra Modi is concerned, the primary medium is to be found on social networking sites such as Facebook and Twitter. Critics argue that he has turned his back on the old forms of media, paper and broadcasting, in favour of less bruising and robust interactions on social networking platforms. Mahima Kaul reflects on the prime minister's controversial embrace of the new social media.
Surgical Operations and Oculus Rift
"See one, do one, teach one" is an old maxim of medicine – as far as learning about surgery in theatre is concerned. But in the future the seeing for medical students may not be live and direct, but remote and virtual. Researchers in France have been experimenting with the virtual reality tool, the Oculus Rift, as a means of teaching students about the intricacies of surgery and putting them in the surgeon's shoes. The surgeon, Thomas Gregory, and Rémi Rousseau, the chief engineer who originally devised the project, discuss the results.
Ring the Changes+
If you have never been able to hear then your chances of becoming a dancer or choreographer might be limited, as the discipline of dance is often wedded to sound effects and music. But that has not deterred the deaf artist Chisato Minamimura. In her latest work she has collaborated with Nick Rothwell and the innovative multi-skilled collective, data>body>space, to create a dance that uses technology to visualise sound. Gareth Mitchell visits the team in rehearsal before their show at London's Southbank.
(Photo credit: Indian Prime Minister Narendra Modi © STRDEL/AFP/Getty Images)
Last on
Chapters
Modi: Twitter vs Mainstream

Is India's Prime Minister spurning mainstream media for an easier time on social media?

Duration: 05:27

Surgical Operations & Oculus Rift

Medical students learn how to operate virtually

Duration: 07:22

Ring the Changes+

The deaf choreographer who is visualising music

Duration: 07:24

Broadcasts