Main content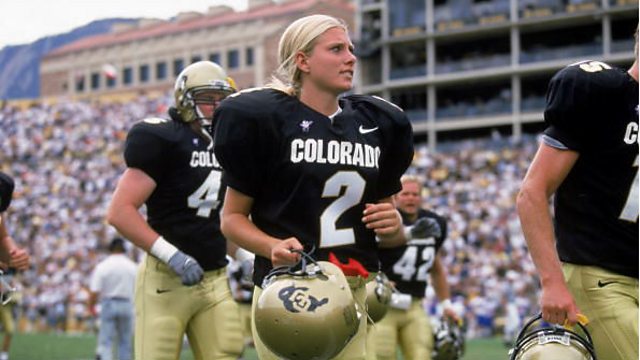 NFL: New Season, New Punishments
Why the new NFL domestic violence punishment guidelines for American football were needed.
A week before the new American Football season starts, the sports governing body the NFL has redefined it's punishment guidelines for domestic violence after many said they were too lenient. Now any NFL employee, not just players, found to have engaged in domestic violence will be suspended without pay for six games. A second offence and a life-time ban can be imposed. Katie Hnida knows all too well about violence against women in and around the sport. She overcame prejudice, bullying and an alleged rape to become the first woman to score points in a college game.
The Death of Albert Ebosse
Last weekend the young Cameroon forward, Albert Ebosse, was playing for his club side in Algeria when he was hit by a rock thrown from the crowd as he walked off the pitch at the end of the game. He died later that day in hospital. Algerian footballer Hamza Bencherif who became close friends when the two were room-mates at JS Kabyly, admits to struggling to come to terms with his friend's tragic death.
Beyond Cliché: A Bluffers Guide to Transfer Deadline Day
For those still unaware that transfer deadline day is the most important day in the football calendar, we offer a bluffer's guide so you can fully enjoy the day even if you have no interest in football. Adam Hurrey, author of Football Clichés is our guide and guru.
Jamaica's Polo Push
The sport of polo has a long history in Jamaica. However as the numbers of players from traditionally well off areas of the island dwindled fears of its future arose. In fact it has given rise to an influx of players from every strata of society, and with help, make it flourish again.
Dream Job
Ever dream of an alternative career?! Swapping the office or factory to pursue a career that feels more like a past time... We experience a day in the life of someone who has done just that as we joining surf school owner Matt Grainger on Sydney's Narrabeen beach.
Video Games
Big crowds packed into a football stadium to watch a battle between two teams of 'superstars' for thousands of dollars in prize money. But they're not watching football, boxing or even volleyball. They're watching others play video game players. But can this really be a spectator sport?
English India Cricket
In 1990 the British politician Norman Tebbit devised his "cricket test". It called on Britain's immigrant populations to give up their sporting support of West Indies, Pakistan or India and instead cheer on England. As England take on India at Trent Bridge in Nottingham we look at the significant British-born support the visitors receive and its implications for players like Ravi Bopara who has represented England and is of Indian decent.
Trapeze-e Does It
As a trapeze instructor you wouldn't automatically think Amanda Miles is playing a crucial role in improving mental health. However that's exactly what Amanda is helping to achieve! She explains the benefits of trapeze to both body and mind!
Sporting Witness… goes back to the summer of 1968 and the first Special Olympics was held. It was open only to those with a learning disability. Frank Olivo took part - Anne Burke was the organiser, they talk about breaking down prejudices
Photo: Katie Hnida in her University of Colorado days heads off the field during a game (Credit: Brian Bahr/Getty Images)