Main content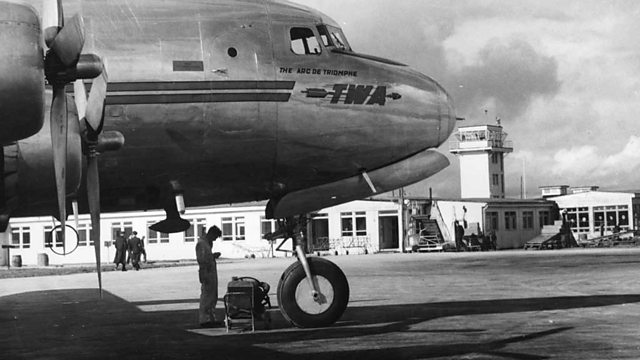 Atlantic Crossing
As air traffic control moves towards text messaging, Christine Finn toasts the voices of the air traffic controllers who have guided trans-Atlantic flights since 1919.
When Christine Finn's in-flight entertainment was accidentally tuned to cockpit radio on a transatlantic flight, the voice of air traffic control as they reached Irish airspace seemed to be welcoming her as well as the pilot.
As a creative archaeologist, she wanted to unravel the connections between those who fly the Atlantic and those who guide them safely over, especially when she discovered that datalink - effectively text messaging - is increasingly being used, so that voice communication is on the wane.
Listening to archive of transatlantic flights from the first by Alcock and Brown in 1919, Christine discovered that the west coast of Ireland looms large in the history. She visited Shannon airport in County Clare, scene of many departures and reunions and - in the 1950s and 1960s - before the advent of the jet engine, a stop-over for most of the popular icons of the day as their planes re-fuelled after the 3000 mile flight. Every US president since JFK has visited Shannon and many of its classic stars from Marilyn Monroe to Fred Astaire.
And at the North Atlantic Communications Centre in nearby Ballygirreen, Christine met the faces behind the voices she heard coming out of the dark on her own Atlantic Crossing.
Picture: Shannon Airport, 1950. Credit: Clarke/Fox Photos/Getty Images