Main content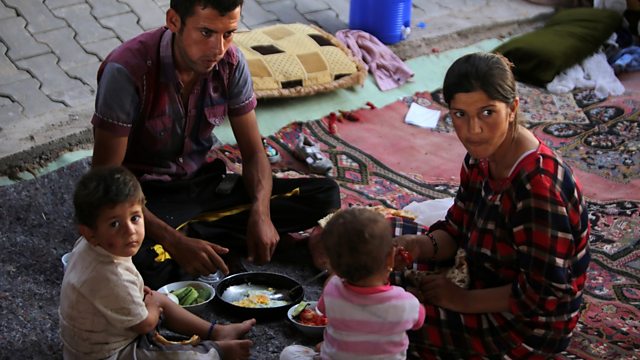 Iraq and China
Caroline Wyatt finds Yazidis aren't the only refugees from IS crowding the streets of Dohuk; Josephine McDermott sees cultures clash as a Western bridesmaid at a Shanghai wedding.
The exodus of Yazidis from areas of Iraq taken by the Islamic State (IS) has drawn the world's attention. But Caroline Wyatt finds they're not the only minority people seeking shelter in Iraqi Kurdistan, in the vacant buildings and on the streets of the city of Dohuk. There are Shabak, Kirkai, Armenian, Turkmen and Shia families seeking refuge too - and local Kurdish communities may not be able to keep up their hospitality for long.
In Shanghai, Josephine McDermott dons a long cream gown for a special occasion: the marriage of a British friend and a Chinese bride, in a cross-cultural union which - at times - left both sets of guests at the party a little at sea. It turns out that both British and Chinese have wedding customs which can fox the outsider...
Presenter: Owen Bennett-Jones
Producer: Polly Hope
Photo: A displaced Iraqi family from the Yazidi community in the town of Sinjar eat under a bridge where they found refuge, on the outskirts of the city of Dohuk, in Iraq's autonomous Kurdistan region. (AHMAD AL-RUBAYE/AFP/Getty Images)