Main content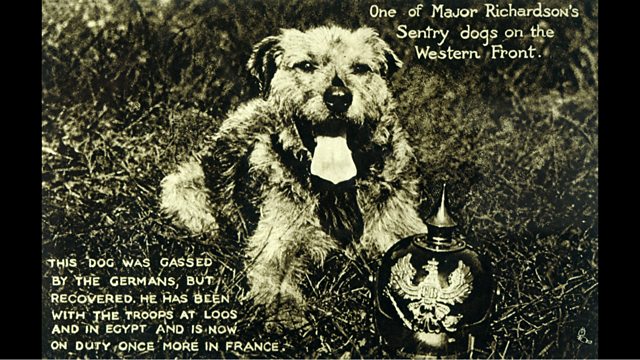 Angus, Scotland: Setting up the British War Dog School
DD7 6JR - Major Edwin Richardson was convinced that dogs could play a vital role in modern warfare.
Panbridge House, Carnoustie, Angus, DD7 6JR
Major Edwin Richardson was convinced that dogs could play a vital role in modern warfare. He raised a large kennel of dogs on his farm near Carnoustie on the East coast of Scotland and carried out experimental training in the sand dunes. At Barry Buddon Army Training Camp nearby, the officers in charge would unofficially help him to test his dogs. However, despite many attempts, he could he could not convince the authorities to set up an official military dog programme.
He trained ambulance dogs, to seek and find wounded soldiers in the battlefield and before World War One; his dogs were in demand from police forces and armies across Europe. When he began to work more closely with sentry and guard dogs, he found the Airedale Terrier most suited to this type of work and began to specialise in the breed.
When his offer of sentry dogs was turned down by the army at the beginning of Wold War One, he turned to his other area of expertise, ambulance dogs. His services were taken up by the British Red Cross Society and in early August 1914, he travelled to Belgium with some of his trained bloodhounds. The dogs had special khaki coloured coats with the red cross to wear on the battlefield. However, it became clear that ambulance dogs could not be used as the Germans shot the dogs with no regard to the red cross.
He returned home and began to supply sentry dogs to the army unofficially but on request. A breakthrough came in 1916, when an officer asked if a dog could be trained to carry messages on the front-line. Richardson, successfully trained two Airedales and on New Year's Eve, Wolf and Prince, left for France. A breakthrough came in 1917 when the dogs were the first to bring the news of the attack on Vimy Ridge.
The British generals were finally persuaded to allow Richardson to set up the British War Dog School at Shoeburyness in Essex.
Duration:
Featured in...
Places in Scotland that tell a story of World War One

Animals' contribution to the war effort
More clips from World War One At Home