Main content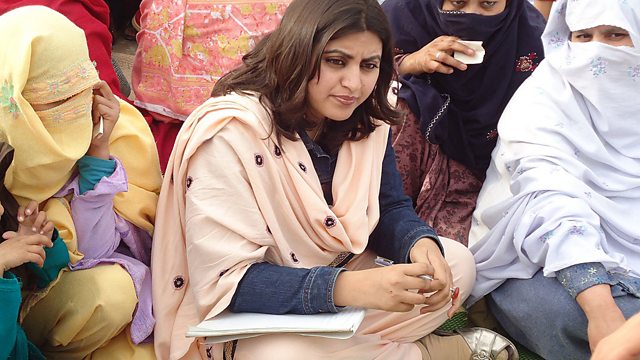 Gulalai Ismail: Speaking Out at a Cost
Jo Fidgen talks to Pakistani activist Gulalai Ismail, whose work to promote women's rights and combat radicalisation has brought her death threats.
Gulalai Ismail from Peshawar in Pakistan has been campaigning for equality and peace since she was a teenager. She and her sister Saba founded Aware Girls 12 years ago and have put their lives on the line to stand up for women's rights and combat radicalisation.
Vickie Tanner grew up in Compton, a suburb of Los Angeles notorious for its violent gangs and drug culture. She was determined to get out and found an escape in theatre. She now teaches drama to troubled children, and inspired by their stories and her own, she's putting on a one-woman show at the Edinburgh Festival, called Running Into Me.
An unusual romance in Kenya has been causing a storm on social media. Sarika Patel is of Indian descent, her partner Timothy Khamala is a Bukusu man, a subgroup of the Luyha tribe. They've had a lot of grief for being an interracial couple, although thousands of people have been tweeting their support using the hashtag, #MyBukusuDarling.
Amelia Earhart was a pioneering aviator who made a bid to fly round the world in 1937, but disappeared along the way and was never seen again. This year, another Amelia Earhart set out to recreate that famous flight, completing the journey in 18 days. And she really was christened Amelia Earhart.
Picture: Gulalai Ismail and some of the women with whom she works
Credit: Peace Direct
Last on
Broadcasts