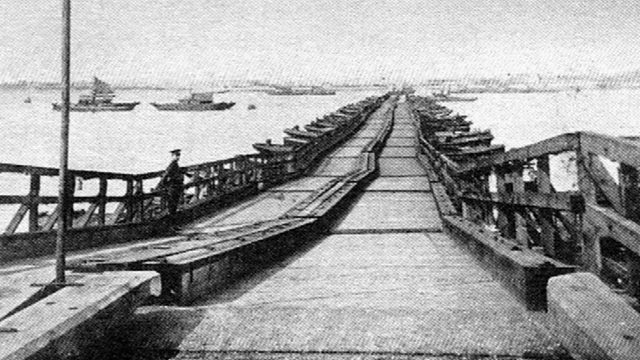 Tilbury, Essex: The First Crossing Between Essex and Kent
The Dartford Crossing has connected Essex and Kent since 1963, but it wasn't the first crossing between the two counties.
During World War One, a military pontoon bridge existed between Tilbury and Gravesend, linking dozens of wooden boats together across three quarters of a mile of water with complex tides. Made with over four miles of timber, it was constructed in just one month.
The bridge was required to allow the movement of troops, equipment and horses down to the south coast without going through London. The bridge had two lanes of traffic, remained operational twenty-four hours a day, yet allowed shipping movements to continue into the capital.
The bridge had an 800ft removable section in the middle which took five hours to open and close again. A permanent crew of 30 men operated the bridge, which remained in place from 15 November 1914, until the end of the war.
Location: Tilbury, Essex RM18 7NR
Image: The first ever physical crossing between Essex and Kent was this military pontoon bridge built during WW1 in 1914. Photograph courtesy of Jonathan Catton from Thurrock Museum