Main content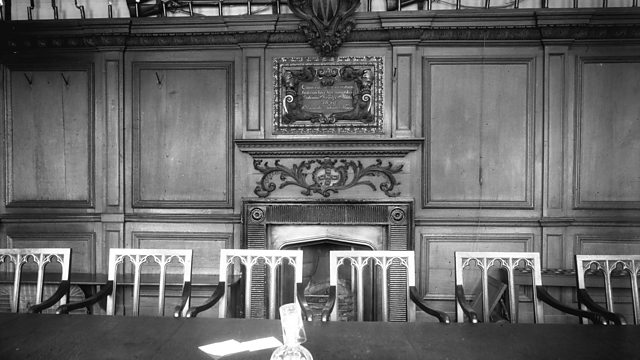 Guildhall, York: Tied to a Barbed Wire Fence
The story of the resistance and hardship faced by York's conscientious objectors
York, significant for its Quaker population, played a pivotal role in the story of conscientious objectors during World War One.
In Spring, 1916, the grand wood-panelled council chamber at York's Guildhall was the location for a series of tribunals held to judge the fate of men who resisted the Military Service Act and were refusing to fight on grounds of conscience. Central to the proceedings was Alderman Sir Joseph Sykes Rymer whose portrait still looks down from the wall of the Guildhall Chamber.
On 27 January 1916, the Military Service Act was passed. This stated that all men between the ages of 19 and 41 who were physically able must enlist. Although a large number of men did enlist, many who were opposed to the war refused to fight on the grounds of conscience.
As campaigners such as Sir Arnold Rowntree and Edmund Harvey defended their rights in Parliament, tribunals were held in the Guildhall to hear the reasons why these conscientious objectors felt they could not and would not engage with the war effort. Only 1% of appeals nationally were for reasons of conscience, with the rest citing economic or family reasons. Although in a city like York, the percentage was probably higher.
One such case was that of Rowntree's worker Alfred Martlew. He, along with sixteen other absolutists, was imprisoned in Richmond Castle and later sent to France. Collectively known as the 'Richmond Sixteen'; these men were sentenced to death and although the decision was overturned, Martlew's story still ended tragically as shortly after returning to York his body was found in the River Ouse and his death presumed to be suicide.
Location: The Guildhall, St Helen's Square, York YO1 9NQ
Image: York Guild Hall, courtesy of Explore York Libraries and Archives
Presented by Jonathan Cowap
Historyworks production for BBC Radio
Duration:
Featured in...
The individuals who made a stand against conscription

Places in and around York that tell a story of World War One
More clips from World War One At Home