Main content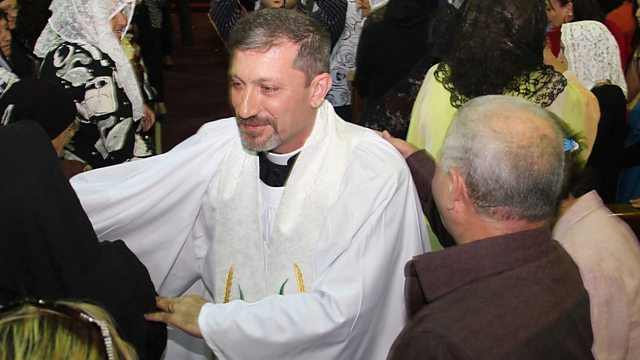 Iraqi Priest: We Live in Fear
Babita Sharma talks to the Reverend Faiz Jerjes about staying with his Christian flock despite threats from Islamist militants.
The Reverend Faiz Jerjes is the curate of St George's Anglican Church in Baghdad, and leads a congregation that feels increasingly under threat from the Islamist militant group ISIS. Christians in the north of Iraq have recently been given an ultimatum to convert, pay a fine, or be killed. But Reverend Faiz says he's determined to stay and help his flock.
Venezuelan authorities have begun moving residents out of the Tower of David, a skyscraper in the financial district of the Venezuelan capital, Caracas. The 45-storey tower has become famous as the world's tallest slum. The building was destined to be the headquarters of a bank, and construction started during the oil boom of the 1990s - but halfway through, the money ran out, building stopped and eventually, squatters moved in. Earlier this year Irene Caselli spoke to one of the tower's 3000 inhabitants.
Abo Gabi is a celebrated Palestinian-Syrian musician. He was born and brought up in Yarmouk camp, a built up area of southern Damascus, where Palestinian refugees have been living for over 50 years. Since the start of the conflict in Syria many have left and Abo himself fled ten months ago for Beirut where he met reporter Angela Robson.
Qamar Naseem was born into a conservative family in rural Pakistan. Seeing his mother and sisters denied opportunity inspired him to take up the cause for women. In 1999 he co-founded a group called Blue Veins to raise awareness of breast cancer after his family members were affected by the disease. But Qamar has faced hostility from religious extremists and threats to his life for his work on women's rights.
Grandmaster Caz is a pioneer of hip hop in the late 1970s known for his role in one of the biggest selling rap records of all time Rappers Delight by the Sugarhill Gang. The song propelled the group to worldwide success, although Caz feels he was never given proper credit for his contribution. Today, at the age of 53 he's still making tracks, and even works as a celebrity tour guide in New York. He takes us on a musical journey through his life and career.
Photo: Reverend Faiz Jerjes