Main content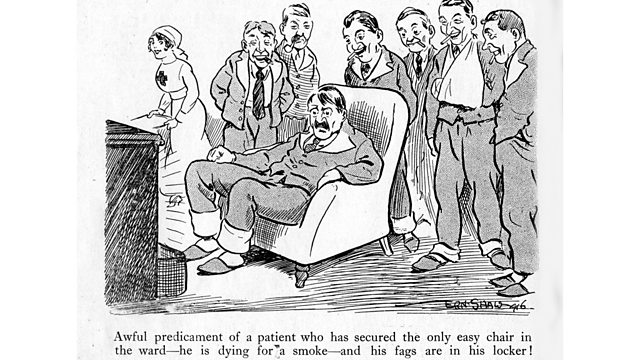 Reading War Hospital, Berkshire: Magazine Reflects Wartime Life
'The Ration' gives an insight into hospital life through jokes, stories and sketches
The Ration magazine entertained patients and staff at the Reading War Hospital for three years and provides an interesting insight into hospital life during World War One through anecdotes, poems, jokes, stories and sketches.
The first issue in January 1916 was written entirely by members of the Royal Army Medical Corps detachment working at the No 1 War Hospital on the Oxford Road. Patients and staff were invited to contribute articles to provide amusement and as an antidote "to the more serious work we are engaged in…To touch on the brighter side of life in the midst of so much suffering is a beautiful and helpful way of doing our bit."
Published monthly, it cost 1d but the rising cost of paper and ink led to an increase in price to 2d in July 1916. The editor made a plea for contributions in May 1916 lamenting the lack of women involved, which he noted was regrettable as they were in a far better position to hear the gossip of the wards and bandied jests. "These are worth preserving", he said and "should be collected and printed in the magazine as a permanent record of the spirit which promotes the work that is being done at our hospitals."
The Ration proved popular, selling an average of 1,500 copies a month, the final edition was printed in January 1919
Location: No 1 Reading War Hospital, Oxford Road, Reading, Berkshire RG30 1 AG
Image: from The Ration magazine (April 1916) courtesy of Berkshire Medical Heritage Centre
Extracts from The Ration magazine courtesy of Berkshire Medical Heritage Centre and Berkshire Record Office
Articles read by staff at Royal Berkshire Hospital and Tesco Reading West (built on the site of the former War Hospital)
Presented by BBC reporter Janice Hunter
Duration:
Featured in...
Places in Berkshire that tell a story of World War One

Hospitals, medical pioneers and the nursing contribution
More clips from World War One At Home