Main content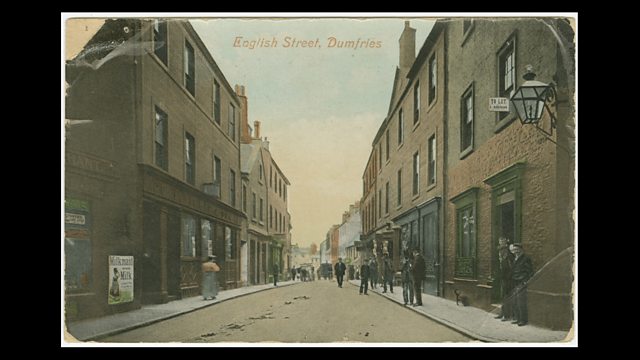 Dumfries, Scotland: Anti-German riots in Dumfries
DG1 2DA, DG1 3BL - After the sinking of the Lusitania, anti-German riots broke out across Britain. One such riot occurred in Dumfries - and the police struggled to keep control.
DG1 2DA, DG1 3BL - Dumfries
In May 1915, the British passenger liner the Lusitania was sunk by a German U-boat provoking international outrage.
Nearly two thousand men, women and children died in the tragedy. The reason for widespread fury was that the passengers onboard the Lusitania were seen by the Allies as non-military targets. The death of 128 Americans was also instrumental in bringing the United States into the war.
The sinking sparked anti-German demonstrations throughout the British Empire. In the streets of Dumfries, riots broke out as the businesses and properties of German residents were targeted.
One of the properties targeted was a hairdresser belonging to Conrad Ahrweiler. "The shop windows were smashed," said Stefan Manz, lecturer in German at Aston University in Birmingham. "More and more people assembled here until there was a crowd of several thousand."
Having destroyed Conrad Ahrweiler's shop, the crowd then moved on to Lockerbie Road and the home of Charles Cleeberg, a maker of violin strings. Rocks were thrown from the garden, windows smashed and the house almost set alight.
"The Kleebergs were woken up by the crowd," explains Stefan. "They were in a panic, they had to flee the house because they were fearing for their lives. They went into the back garden and climbed across a garden fence, Mrs Kleeberg injuring herself in the process."
Because they had no close contacts back in Germany, many immigrant families, such as the Cleebergs, were forced to stay in Scotland and rebuild their lives in the neighbourhood from scratch.
"I think I have to agree with the local press," says Stefan. "They made the point that mob rule is never right. We should leave justice to law and to the police and not take it into our own hands."
Image courtesy of Dumfries Museum.
Duration:
More clips from World War One At Home