Main content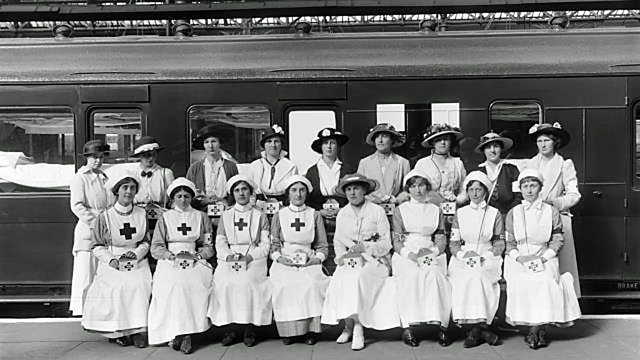 Snow Hill Station, Birmingham: Hospital Trains
Bringing injured troops to the Midlands for treatment
During World War One, hospital trains ferried casualties back from the Western Front to Snow Hill Station in Birmingham.
These trains were specially designed to allow nurses to continue to care and treat for patients as they were transported back to hospitals around Britain.
The trains left south coast ports in England such as Southampton and Portsmouth after picking up wounded men. Many made their way to Snow Hill Station where they were treated at local hospitals.
Some of the men were walking wounded whereas others would have needed stretcher bearers when they arrived at Snow Hill Station in the centre of Birmingham. They would then be taken by motorised ambulances to various hospitals.
During periods of intense fighting on the Western Front hundreds of men arrived at Snow Hill stations platforms, many still with fresh injuries sustained in battle.
The trains were transformed into small makeshift hospitals with intricate treatment and care facilities. The nurses often had to work in cramped conditions with bunks either side of the carriages.
On board were medical officers, nurses and orderlies. On any particular hospital train there would usually have been two or three trained nurses which meant a busy shift for those working on the trains.
Location: Snow Hill Station, Birmingham B3 2BJ
Image: Nurses by a hospital train, courtesy of the National Railway Museum
Duration:
Featured in...
Places in the West Midlands that tell a story of World War One

Hospitals, medical pioneers and the nursing contribution
More clips from World War One At Home