Main content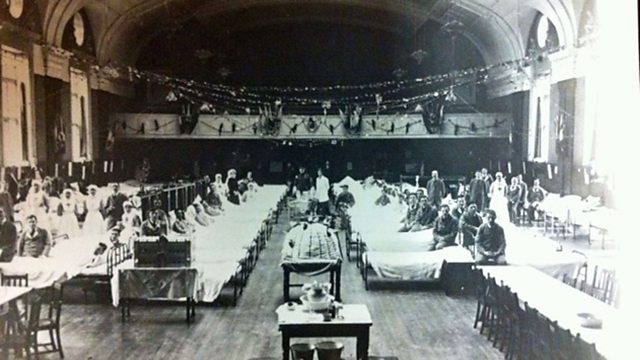 Torquay, Devon: The War in Agatha Christie's Words
Agatha Christie – the war in her own words
Agatha Christie spent World War One in Torquay. She served as a nurse at the Red Cross Hospital in the Town Hall, which is when she began her first novel.
Agatha Christie (Agatha Miller as she was at the start of the war) started work at the Torquay Town Hall hospital in October 1914. According to her Red Cross service record she gave 3,400 hours.
She also worked in the hospital's dispensary and it was here that she learned about poisons. In 1917 she took the Apothecaries Hall exam.
Aged 84, in an interview with the Imperial War Museum she recollected her experiences in the hospital during the war. She describes writing letters to the girlfriends of wounded servicemen, walking others to X-rays, feeling ill whilst watching a stomach operation, cleaning up after amputations and learning about poisons. She also records her sadness at the death of one soldier she cared for.
Agatha Christie began her first novel, The Mysterious Affair at Styles, in 1916. The plot unfolds with the detective, Hercule Poirot, is a Belgian refugee, Captain Hastings is convalescing from the war and the victim raises money for the war effort.
Agatha married Archie Christie, a Royal Flying Corps pilot, on Christmas Eve 1914.
World War One and Torquay's Town Hall hospital were instrumental in inspiring her writing.
Location: Town Hall, Torquay TQ1 3DS
Photograph of Torquay Town Hall during the war courtesy of Torbay Library Services
Duration:
More clips from World War One At Home