Main content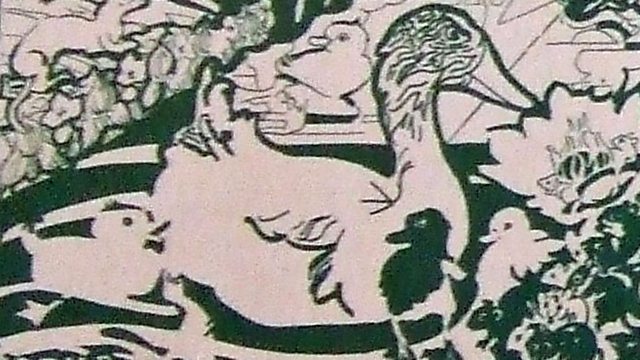 Minsterworth, Gloucestershire: The Laureate of Gloucestershire
The poet who tried to escape German prison twice
Frederick William Harvey was born into a prospering farming family at Hartpury in 1888. They moved to Minsterworth two years later and it was this community and the surrounding landscape that influenced his beliefs and writing. He preferred the company of his friends, Herbert Howells and Ivor Gurney to training in law. He formed a close creative partnership with Ivor Gurney and they spent many of the pre-war days sailing their boat, the Dorothy, and discussing literature and music.
On 8 August 1914, Will Harvey and his two brothers enlisted. Will and his brother Eric joined a Territorial unit, the 5th Battalion Gloucestershire Regiment. His education and professional training made him eligible for a commission but he preferred to enlist in the ranks The battalion was posted with the 48th (South Midland) Division to France in March 1915.
He began writing for the amusement of his comrades and he made an important contribution to the 5th Gloucester Gazette, the first trench newspaper produced by the battalion's chaplain. Will Harvey wrote satirically about conditions in the trenches and senior officers; the latter inconceivable in the Regular army but allowed within the more informal officer-man relations in a Territorial unit.
In 1915, during a reconnaissance patrol in no man's land, he and his friend Raymond Knight, another Corporal, stumbled across a party of Germans and in the subsequent fire fight and pursuit they distinguished themselves and were both awarded the Distinguished Conduct Medal. Both men were recommended for a commission and returned to England for training. Through his verse and gallantry Will Harvey was becoming well known and he was observed by another soldier who saw him on the train returning home to be a slight figure and not at all the dashing hero he had expected.
On 25 May 1916, Will Harvey returned to the Western Front with the 2/5th Glosters and they assumed responsibility for trenches in the Laventie area. He was now an officer in the same battalion as his best friend Ivor Gurney. On 17 August 1916, he set out on a lone reconnaissance to establish the enemy lines and got lost. He slipped into a German trench which he discovered was much deeper than those of the British and could not get out. Traversing the length of the trench he was discovered by a party of Germans. He spent the remainder of the war in prisoner of war camps. He was friends with a party of tunnellers trying to escape; he himself tried to escape twice, once by jumping from a train and on another occasion by hiding in a laundry basket being taken out of the camp.
His first volume of poems, A Gloucestershire Lad At Home and Abroad, was published in 1916, shortly before his capture. He began to write more intensively in captivity, and poems were sent back to England for publication. His second collection, Gloucestershire Friends, appeared in 1917. His time in the camps is held to be his most productive period of writing. On returning from a spell of solitary confinement at Holzminden after a failed escape attempt, he saw that a fellow prisoner had drawn a picture of ducks in a pool of water over his bed in chalk. This inspired his most celebrated poem (and the title poem of his third collection, published in 1919), "Ducks". His volumes of poetry went into several impressions and his work was reproduced in all the major national newspapers.
Many of his 'Comrades in Captivity', the title of a biographical account of his captivity published in 1919, were interned in Holland before the war ended. Will Harvey was a captive until the last days of the War when depressed and tired he heard about the death of his brother Eric, who had also served with the 2/5thGloucestershire Regiment and had been awarded the MC and bar.
He spent some time in Holland helping repatriate prisoners to Eastern Europe and considered joining the British Expeditionary Force leaving to help the White Russian forces. He caught influenza in the pandemic and finally returned much weakened to Minsterworth.
In 1921, he married a nurse Sarah Anne Kane and published a volume of poems called Farewell that gave notice of his intention to leave the literary world and pursue his legal career. He had two children Eileen and Patrick. Eileen, born in 1922, is the narrator of this account of her father's war. He was disappointed that the working man was not better treated after the war as he believed he had fought for a 'new' England. His legal work was devoted to defending the poor and he held the conviction, informed by his own incarceration, that prison never did any man any good
Location: Highview, Harvey Lane, Yorkley, GL15 4UA
Image: Illustration of Frederick William Harvey's most popular work 'Ducks' which he wrote during his time as a POW at Holzminden in Germany
Presented by Frederick William Harvey's daughter, Eileen Griffiths
Duration:
Featured in...
Places in Gloucestershire that tell a story of World War One
More clips from World War One At Home