Main content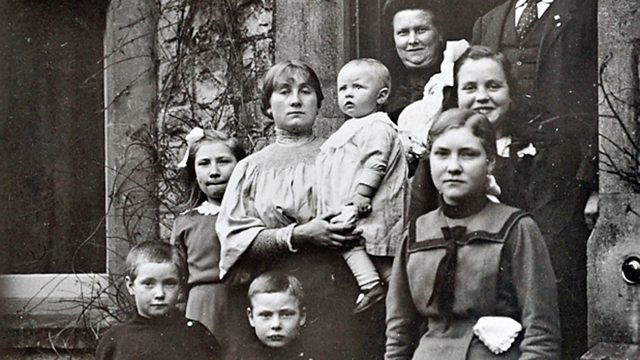 Banwell, Somerset: Finding a Home From Home
Belgian families who sought sanctuary in Somerset
A few miles from the seaside town of Weston-super-Mare lies the village of Banwell. The large, handsome houses which line the narrow streets are a tell-tale sign of past wealth and prosperity.
During World War One a handful of exiles from Belgium were welcomed to the village and were taken in by the Ogden family at their home, Waverley House. It was a humanitarian gesture repeated many times over, not just in Somerset, but throughout the country.
Little is known about the Belgians who came to Banwell apart from a few scraps of information gleaned from school records, the parish magazine and the few written accounts which mention them. Arriving in 1915 they were certainly a large family, numbering anything between ten and seventeen. It's not certain if they were all blood relatives or if the party included Belgian neighbours, friends or servants. The family name appears to be Moure or Mouri with children registered at the village school including Mathilde, Ferdinand and Henry.
On the whole rural communities like Banwell were keen to provide shelter and security to the desperate and displaced. Often it was large landowners, the local gentry or other influential residents who organised welcoming committees, fund-raising events and other charitable relief, and in the majority of cases people rallied round. Wherever possible the aim was simple; to offer accommodation, schooling and jobs. In other words, a home from home.
Other communities in the northern part of Somerset also provided for exiled Belgians, such as Weston-super-Mare and Midsomer Norton. There may have been a Catholic connection with Downside Abbey but whatever the reason, there certainly appears to have been a seamless welcome. It would have been comforting to the newly arrived family to know that money was being raised for their loved ones left behind on the continent. The church magazine's February 1916 edition reveals that the Axbridge Union distributed envelopes to homes in the area with the idea that they would be placed on dinner tables on Christmas Day to raise money for people in Belgium.
Banwell historian Roy Rice is proud of the way the community pulled together: "It's good to know that the village showed such generosity to both the refugees here and their countrymen back home. I think that spirit survives today and we'd still send money where it's needed abroad."
However, at the time not everyone was so kind to the WW1 refugees. In the 1970s a local resident, Gladys Nuttycombe, recalled her wartime experience as a maid at Banwell Abbey. She said that four of the staff were asked to leave their posts so that jobs could be provided for some of the Belgian exiles. While she was happy to go, she remembered that "some of the village people didn't think much of it." One in particular, the village haulier, took such objection that he told Gladys: "they baint getting any more of my sixpences."
Location: Waverley House, West Street, Banwell BS29 6DB
Image shows a wartime Belgian refugee family on the steps of their adopted home; Waverley House. Photograph courtesy of the Roy Rice Collection
Duration:
Featured in...
Over 250,000 Belgians fled to Britain when Germany invaded Belgium.

Places in Somerset that tell a story of World War One

Everyday life in the towns, villages and countryside
More clips from World War One At Home