Main content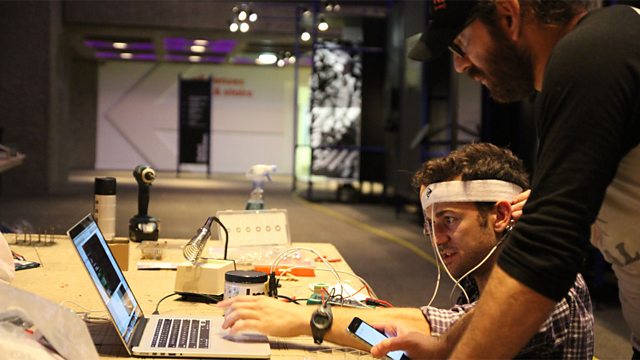 BrainWriter
The new tool that lets paralysed users draw using their brainwaves. Plus, Brazil's smart policing project, checking potential business partners and music with Moog synthesisers.
A few years ago Mick Ebeling and his team at Not Impossible Labs dreamed up the impossible for a paralysed artist. They developed a tool that would enable him to draw by blinking his eye. The artist's condition has worsened such that he can no longer blink properly. So Ebeling's team have now embarked on developing a new tool that will, by monitoring the artist's brain waves, enable him to draw once more. Mick Ebeling joins Click to explore the possibilities of the BrainWriter.
Smart Policing in Rio de Janeiro
Five years ago Brazil's government began an unprecedented and controversial effort to remove organised crime from Rio de Janeiro's favelas – through a process called pacification. Keen to reduce conflict between residents and the police, the Igarapé Institute is piloting a 'smart policing' project in collaboration with the military police, using a mobile app to monitor and track police movements. Vishva Samani reports from Rio de Janeiro.
Arachnys and Due Diligence
Doing business internationally sometimes comes with an unexpected price tag - the company you thought you were doing business with may in fact be bogus or not solvent. But not only is it sensible to carry out due diligence on your counterparts, it is also sometimes a legal necessity. David Buxton joins Click to discuss how open source data may provide the reassurance of accurately identifying potential business partners.
Moog Ensemble
The Moog Ensemble is a group of moog synthesiser enthusiasts who have come together with the decades-old analogue keyboard instruments to create fantastic electronic sounds. Colin Grant talked to Will Gregory at the Brighton Festival about going on the road with the ensemble, and about creating the kind of vivacious, soulful music with the mood synthesiser that is found in no other acoustic instrument.
(Photo: The BrainWriter team's chief hacker Daniel Goodwin and lead neuroscientist David Putrino at the Barbican Digital Revolution, July 2014 © Elliot Kotek for Not Impossible)
Chapters
BrainWriter

The technology to enable a paralysed artist to draw using his brain waves

Duration: 05:13

Smart Policing in Brazil

Vishva Samani reports on how smart policing in Brazil keeps a check on the police

Duration: 05:38

Arachnys and Due Diligence

David Buxton discusses how open source data can establish the bona fides of companies

Duration: 05:51

Moog Ensemble

Colin Grant talks to Will Gregory about putting soul in music with moog synthesisers

Duration: 06:00