Main content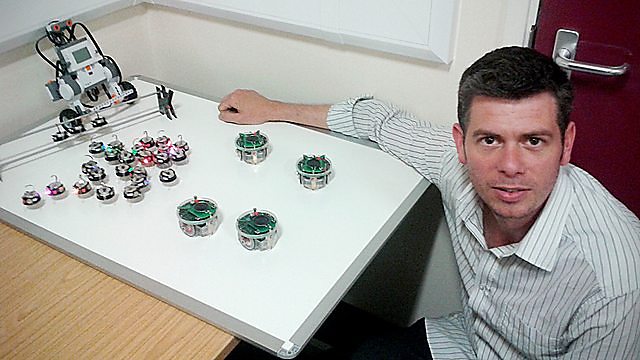 Swarming Robots
Adam Hart looks at how new developments in understanding insect behaviour, plant cell growth and sub cellular organisation are influencing research into developing robot swarms
Adam Hart looks at how new developments in understanding insect behaviour, plant cell growth and sub cellular organisation are influencing research into developing robot swarms.
Biological systems have evolved elegant ways for large numbers of autonomous agents to govern themselves. Staggering colonies built by ants and termites emerge from a decentralized, self-governing system: swarm intelligence. Now, taking inspiration from termites, marine animals and even plants, European researchers are developing autonomous robot swarms, setting them increasingly difficult challenges, such as navigating a maze, searching for an object or surveying an area. At the same time, an American team has announced that its group of robots can autonomously build towers, castles and even a pyramid.
Adam Hart reports on the latest developments in controlling groups of robots, and asks why models taken from the behaviour of social insects such as bees, ants and termites may be far more complex than previously thought. He also delves deep into the cells of plants looking at how the physical and chemical triggers for plant growth might be useful in robot design.
Image: Presenter Adam Hart with 'Swarmbots' at Britain's Surrey University, BBC Copyright
Last on
Broadcasts

The Curious Cases of Rutherford and Fry